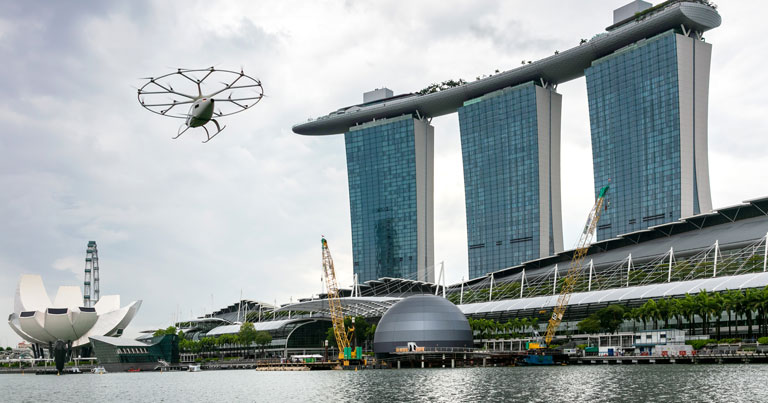 Urban air mobility pioneer Volocopter has successfully completed its first manned flight over Singapore. This marks the last trial of a series of tests to verify and validate the ability of Volocopter air taxis to fly over the area.
Government authorities including the Ministry of Transport (MOT), the Civil Aviation Authority of Singapore (CAAS) and the Economic Development Board (EDB) have supported Volocopter in this testing phase and have stated that they will continue to do so in the future. The flight kicks-off Volocopter's efforts to bring commercial air taxi services to Singapore.
A 2X model of the company's test series flown by a pilot onboard was used for the flight, which covered a distance of approximately 1.5km and lasted for two minutes at an average cruising height of 40m.
Florian Reuter, CEO of Volocopter, commented: "The flight today in Singapore was the most advanced Volocopter flight yet and the piloted flight was as stable as ever. At the same time, we are showcasing a prototype of our full-scale VoloPort Infrastructure, allowing for a realistic demonstration of air taxi boarding and maintenance services. Never before have people been this close to experiencing what Urban Air Mobility in the city of tomorrow will feel like."
Ho Yuen Sang, Director (Aviation Industry) from CAAS, said: "Since late 2018, the Civil Aviation Authority of Singapore (CAAS) has been working with Volocopter to facilitate this flight in Singapore. The Volocopter team went through a series of stringent evaluations to ensure that all the necessary safety requirements were met before the flight was allowed to take place. By working closely with companies such as Volocopter, we hope to facilitate innovations for beneficial uses whilst ensuring aviation and public safety."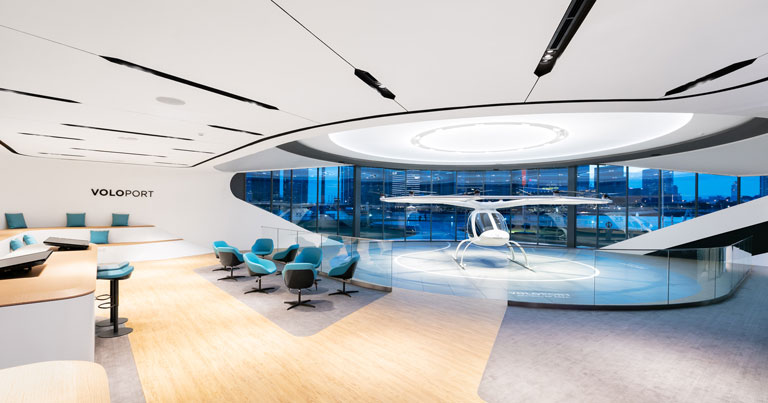 Volocopter and its partner Skyports also unveiled the world's first full-scale air taxi vertiport in Singapore. The so-called VoloPort is the physical infrastructure required for electric vertical take-off and landing (eVTOL) vehicles. VoloPort is designed to provide passengers with a seamless air taxi experience that is safe, secure and integrated into existing infrastructure.
VoloPort will also be utilising technology such as facial recognition and biometrics at its check-in desk, which will use data collected from its booking app to identify passengers.
Volocopter and Skyports have announced that they will continue their partnership with the aim of introducing commercial air taxi services in Singapore and beyond.
In support of its expansion plans Volocopter opened an office in Singapore in January 2019 and has started to build up a local team. Skyports followed suit in September 2019 and will be hiring full-time local staff in early 2020.