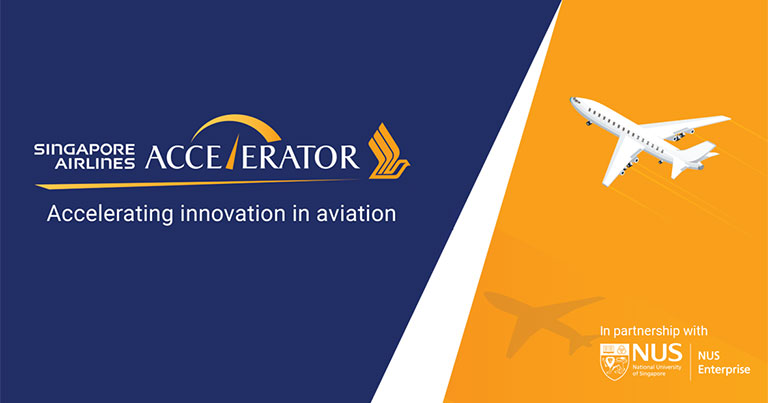 As part of its ongoing engagement with the startup scene, Singapore Airlines is on the hunt for startups to participate in its next accelerator programme. The FTE Innovation & Startup Hub is proud to be a Community Partner to the SIA Accelerator.
The programme provides an opportunity for startups to get a foot in the door and a seat at the table with Singapore Airlines. Teams will be working alongside Singapore Airlines Business Unit Mentors to develop a proof-of-concept over 10 weeks with up to SGD150,000 in grants. The strongest teams will be selected to launch their pilot projects with the airline. The application process closes on 16 December 2019 – you can apply here.
Successful applicants will have access to Singapore Airlines and key partners' API; networking opportunities with renowned brands in the industry; exposure and insights into the exciting global aviation industry; and regional growth opportunities in Asia, the fastest-growing market in aviation and travel. In addition, a dedicated SIA business mentor and NUS advisor will be on hand to co-develop each solution for the airline.
The startups will also have access to a workspace and facilities at Singapore Airlines' digital innovation lab, KrisLab, which the FTE Innovation & Startup Hub Corporate Partners visited last month.
As we reported in July, five pioneering startups graduated from the inaugural SIA Accelerator Programme: airfree, F5Shift, Migacore, Traversel and Volantio.
As part of the accelerator programme, participants went through mentoring, coaching and a validation programme. They were also provided incubation space at NUS Enterprise's The Hangar and SIA's KrisLab. They met regularly with SIA business unit mentors to gain insights for better problem-solution fit. NUS faculty from the School of Computing and Business School who are subject matter experts in areas including robotics, AI, wireless networks, digital innovation and new venture creation, also interacted with the participants to provide domain-specific advice on their product development and entrepreneurship efforts. In addition, participants attended masterclasses, networking events, fireside chats and site visits at NUS Enterprise's BLOCK 71, for a better overview of the aviation and entrepreneurial sector in Singapore and ASEAN.
To be in with a chance of being selected for the Singapore Airlines Accelerator 2020 Spring Batch, submit you application by 16 December 2019 – apply here.
The FTE Innovation & Startup Hub is a Community Partner to the SIA Accelerator Programme.