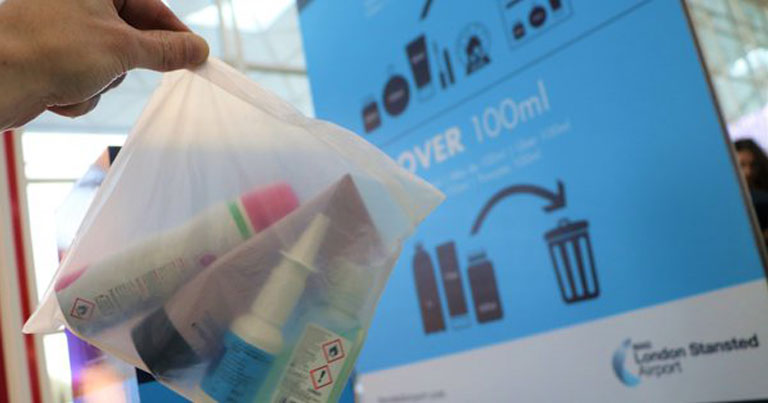 London Stansted Airport has become the first major airport in the UK to trial the use of fully compostable security bags for passengers carrying liquids in their hand luggage.
If successful, the new product could replace the 11 million non-compostable plastic bags which are currently handed out in the terminal every year.
It is currently a legal requirement for passengers to place all liquids, aerosols and gels in containers of no more than 100ml into clear, re-sealable bags in their hand luggage.
London Stansted has worked closely with the Department for Transport and Civil Aviation Authority to approve the trial of the compostable bags for use at security.
Airport staff will be distributing 50,000 of the compostable bags to passengers during one of the busiest weeks of the year for the airport, as the Christmas holidays are underway.
The airport will also be using the trial to seek passengers' feedback on the bags and also their wider attitudes to travelling sustainably through the airport. Passengers who prefer to use the existing bags will be reminded to re-use them as many times as possible when travelling in the future or for other creative purposes outside of travelling such as sandwich bags, carrying make-up or household storage.
Staff will also be encouraging passengers to bring refillable bottles and refill them at its water fountains and asking for their views on other related issues such as carbon offsetting and using public transport to access the airport.
Martin Churley, Environment Manager at London Stansted Airport, commented: "As we reach the end of another busy year, tens of thousands of passengers have been passing through the terminal each day – each with a plastic bag for their liquids, many of which will simply end up in the bin.
"Our first message to passengers is to think carefully about how often they use the non-recyclable plastic bags. They can obviously be used again for a return flight, but there are plenty of other uses for them if you're not a frequent flyer, so we're urging people to avoid throwing them away after they fly."
He added: "However, we're always on the lookout for new ways to cut down on waste, and trialling new compostable bags is just another example of how we are leading the way in tackling some of the local environmental impacts which come with running this small town that we oversee here at London Stansted."
The trial is the latest in a programme of 'Reduce, Reuse, Recycle' initiatives at London Stansted that have been introduced to cut down on waste and support the airport's successful zero to landfill policy. This includes donating over 15 tonnes of items surrendered by passengers at security to local food banks, giving out 1,500 free reusable bottles, 3,500 hot drinks cups, 3,800 silver birch trees, 150 Christmas trees and recently increasing the number of water refill stations throughout the terminal. The airport also recently announced a partnership with Cambridgeshire-based bio bean to convert the 150 tonnes of coffee grounds produced each year to solid biofuels.