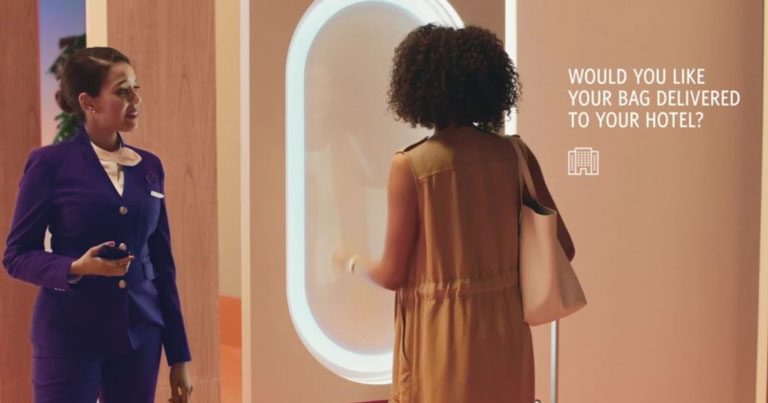 Delta Air Lines, in partnership with Misapplied Sciences, will launch the first-ever PARALLEL REALITY™ beta experience for customers departing Detroit Metropolitan Airport this year.
This new, opt-in technology allows multiple customers to see personalised content tailored to their unique journey on a single digital screen – at the exact same time and in their preferred language. At a glance, the technology will provide wayfinding and personalised travel information, like directions to your departure gate, or the closest Delta Sky Club.
"This breakthrough technology has to be seen to be believed – it has the potential to make even the busiest airports much easier to navigate, even if you don't speak the language," said Delta Chief Operating Officer Gil West. "Not only will Parallel Reality reduce stress and save time for our customers, but when combined with the warmth and thoughtfulness of our Delta people, the possibilities are endless."
So, how will the beta experience work? After going through security at Detroit, travellers will see a Parallel Reality display near the Delta Sky Club. Delta customers departing from Detroit who want to participate can scan their boarding pass on the boarding pass scanner and select the language they want to use. Leveraging multi-view pixels and proprietary technology, this innovation enables each customer to see personalised, in-language messages, tailored just to them, as they walk past the digital screen. For the trial, tailored messages may include personalised wayfinding, flight information or updates, boarding time, the nearest Delta Sky Club or even upgrade/standby status. According to the airline, this experience will always be opt-in, and customer information will not be stored.
Delta Air Lines' keynote at CES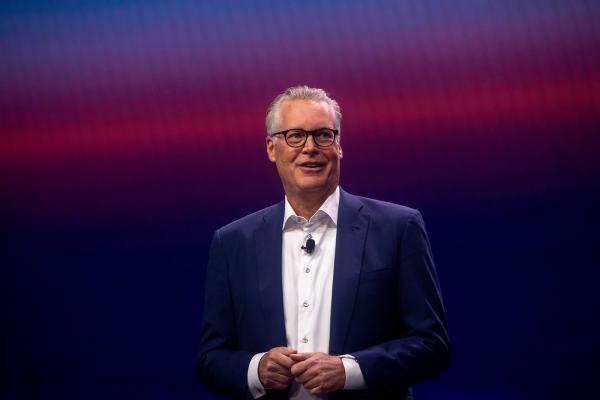 The PARALLEL REALITY™ beta experience was presented at this week's Consumer Electronics Show (CES), taking place in Las Vegas. As the first airline to keynote CES, Delta CEO Ed Bastian laid out a compelling vision for the future of travel, including transformation of the Fly Delta app, captivating entertainment options, full-body wearable exoskeletons and an AI machine learning operations platform.
Bastian described how the Fly Delta app will evolve into customers' digital travel concierge, making travel more relaxing and less stressful by anticipating customer needs, offering convenient services to take the stress out of the day of travel.
Up in the air, Delta also announce that it is doubling down on entertainment, with its partners and its wholly owned startup Delta Flight Products. The airline is taking the first step toward the future era of entertainment by testing new features like a "binge button" that will allow customers to kick back, relax and watch entire seasons of their favourite new shows uninterrupted. For customers who prefer a personalised experience, Delta will pilot a "recommended for you" feature that serves up a curated recommendation based on previous viewing behaviour. Delta will also test features like "do not disturb" or "wake me for meal service" for main cabin customers on select long-haul flights.
Bastian also introduced a proprietary AI-driven platform that will help Delta's professionals make even smarter operational decisions beginning as soon as this year. "Our leading source of innovation is our people," he said. "Our people shouldn't be spending all their time taking tickets and scanning boarding passes. They're too talented for that."
During his presentation, Bastian also introduced the world's first full-body, battery-powered exoskeleton, by Sarcos Robotics, designed to boost employees' physical capabilities and bolster their safety. Delta plans to trial the revolutionary technology in a pilot location during the first quarter of 2020, giving employees the opportunity to experience the tech in a real-world setting and provide feedback on its functionality.
The airline is also investing in renewable and natural environment solutions to offset emissions for its flights to and from Las Vegas during the week of 6 January. As part of its partnership with Global Citizen, Delta will also invest in verified projects to offset the carbon footprint associated with Global Citizen's year-long Global Goal Live: The Possible Dream campaign, which supports the United Nations Sustainable Development Goals.