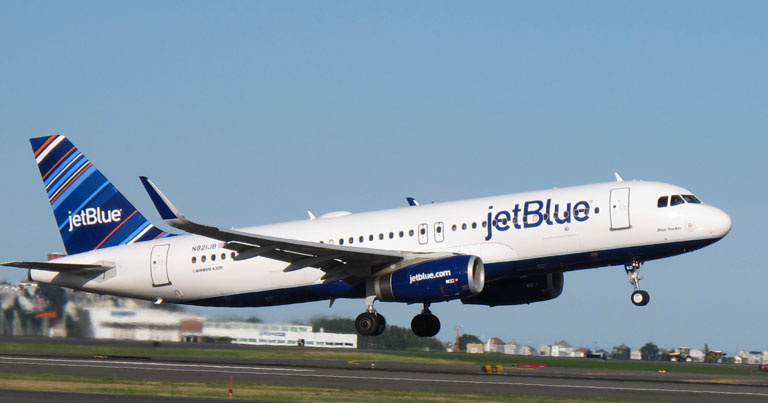 JetBlue has announced that it will offset carbon dioxide emissions (CO2) from jet fuel for all domestic flights beginning in July 2020, making it the first major US airline to take the step toward reducing its contribution to global warming. The airline also revealed plans to start flying with sustainable aviation fuel in mid-2020 on flights from San Francisco International Airport.
"Air travel connects people and cultures, and supports a global economy, yet we must act to limit this critical industry's contributions to climate change," said Robin Hayes, Chief Executive Officer, JetBlue. "We reduce where we can and offset where we can't. By offsetting all of our domestic flying, we're preparing our business for the lower-carbon economy that aviation – and all sectors – must plan for."
JetBlue will continue its partnership with US based non-profit carbon reduction and climate solutions organisation Carbonfund.org. The airline claims that since 2008 it has already offset more than 2.6 billion pounds of CO2 emissions in partnership with Carbonfund.org. JetBlue's new carbon offsetting partners now also include EcoAct and South Pole.
This expansion is expected to offset an additional 15-17 billion pounds of emissions per year and the airline will offer ways for the it's customers and communities to connect with the carbon offsetting projects it is engaging with.
"The airline industry is one of the few industries that has collectively committed to an international emissions reduction goal," said Hayes. "Air travel brings so much good to the world and JetBlue has always been about making our essential industry better. Carbon offsetting is a bridge to, not a silver bullet for, a lower carbon future. Reducing and mitigating our greenhouse gas emissions is a fundamental aspect of our business plan and our mission to inspire humanity."
Moreover, JetBlue has agreed to purchase sustainable aviation fuel from Neste, one of the world's largest producer of renewable diesel and a pioneer in renewable jet fuel, starting in 2020. Neste MY Renewable Jet Fuel is produced 100%  from waste and residue raw materials. Over the lifecycle, it has up to 80% smaller carbon footprint compared to fossil jet fuel.
Among some of the projects, JetBlue will support will focus on forestry, Landfill Gas Capture (LFG), and solar and wind farms.