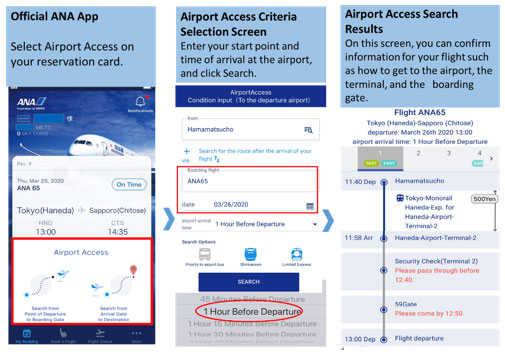 All Nippon Airways (ANA) has announced that it aims to improve travel options for passengers by offering a new Mobility as a Service (MaaS) functionality on its mobile app. The new navigation service function named "Airport Access" offers passengers a seamless travel experience by integrating up-to-date flight status information and location information to put everything passengers need right at their fingertips.
Additional information such as departure terminal, boarding gate and security checkpoint are also available, providing the passengers with comprehensive route information for their entire journey on this single search. Relevant flight information is displayed alongside services that make it possible for passengers to reach their final destination after they disembark. All of the capabilities which have been added to ANA's mobile app will also gradually become available on ANA's website.
"ANA prioritises the passenger experience and we believe that our commitment to service does not end until passengers have safely arrived at their final destination," said Juichi Hirasawa, Senior Vice President of ANA. "As we look for opportunities to extend service, it was only natural for us to explore MaaS capabilities. Adding MaaS options to our application will help simplify travel and we will continue expanding our involvement in this dynamic sector."
The new Airport Access service will make it possible for passengers to quickly and easily search their whole travel itinerary in Japan by entering the place that they are travelling from, and what time they wish to arrive at the airport.
Starting on April 1, 2020, the service will allow passengers to purchase tickets for the Keisei Skylinerblank train which connects central Tokyo to Narita Airport. This capability will be expanded to include other train lines as well as buses and taxis in the future as part of ANA's plan to build a MaaS network that seamlessly provides all passengers with everything they need from the start to the end of the travel experience.
ANA has also stated that as part of its commitment to service, it will continue to seek out ways to advance its technological capabilities in order to offer passengers a more comfortable and convenient travel experience.