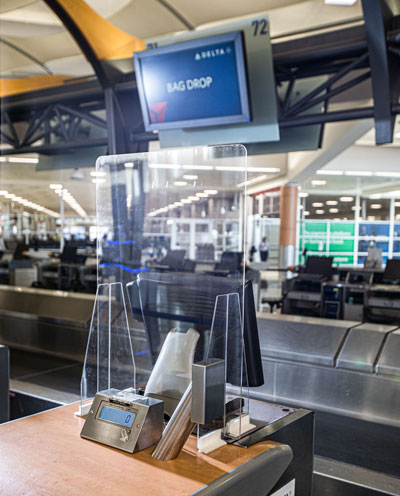 Delta Air Lines is introducing plexiglass safety barriers for airport check-in lobbies, departure gates and Delta Sky Club counters.
The safety shields, designed by Delta Flight Products subsidiary, have been initially tested at the carrier's Atlanta Airport hub. The airline said it is now manufacturing up to 150 barriers per day.
"This is yet another testament to Delta's nimbleness, ingenuity and our relentless commitment to keeping our people and our customers safe in our airports as we all manage the impact of the ongoing pandemic," said Eric Phillips, Delta's Senior Vice President – Airport Customer Service and Cargo. "We appreciate the agility of our Delta Flight Products colleagues to so quickly and expertly produce these safety barriers, which will add another level of safety as our customers check-in, visit a Delta Sky Club and board their flight."
The carrier said that full outfitting of the safety barriers at all check-in lobbies and departure gates is expected at Delta's U.S. hub airports by 1 June and at all U.S. locations in the weeks following. Delta Sky Club installations are expected to be complete this summer and Delta also intends to install at airports outside the U.S. in the weeks ahead.
Following an announcement earlier this month that the carrier will be sanitising flights with electrostatic sprayers, Delta has now said it is extending this cleaning process on all aircraft.
Other initiatives the carrier has undertaken to combat the COVID-19 spread include providing customers with face masks, hand sanitisers and amenity kits; blocking middle seats; adjusting the boarding process to encourage more space for safer travel by boarding all flights from back-to-front; and encouraging customers to pack their own food and beverages to decrease touch points onboard.
The circumstances surrounding COVID-19 are continuously evolving. Our friends at APEX have a dedicated COVID-19 page, which they'll be updating regularly to help keep you up-to-date on how the novel coronavirus is impacting the aviation industry. Visit the page for the very latest news >>