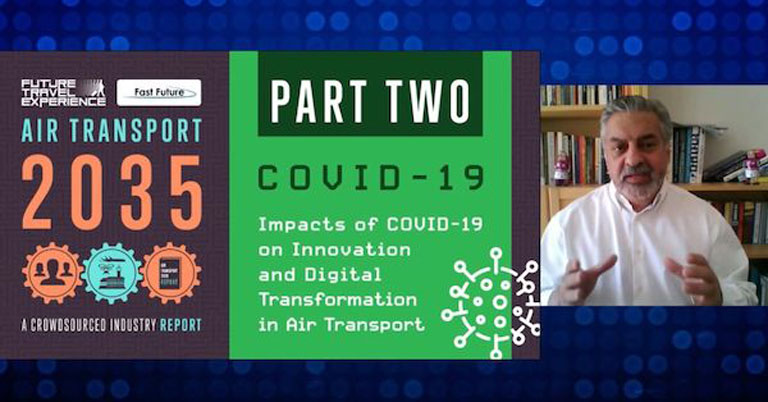 The Impacts of COVID-19 on Innovation and Digital Transformation in Air Transport report, which is the second instalment of the Air Transport 2035 series – jointly undertaken by Fast Future, Future Travel Experience (FTE), and the Airline Passenger Experience Association (APEX) – was launched yesterday during a fascinating two-hour industry webinar. A panel of industry experts, including Clyde Hutchinson, Head of Innovation, Viva Air Labs; Karin Gylin, Head of Innovation, Swedavia; Satyaki Raghunath, Chief Strategy & Development Officer, Bengaluru International Airport; Rohit Talwar, CEO, Fast Future; and Marta Dimitrova, Editor & Hub Community Manager, FTE, discussed the results and shared their own innovation and digital transformation strategies, priorities and future plans.
Watch the full COVID-19 Part Two webinar here
Part One: COVID-19 Air Transport Near Term Impacts and Scenarios report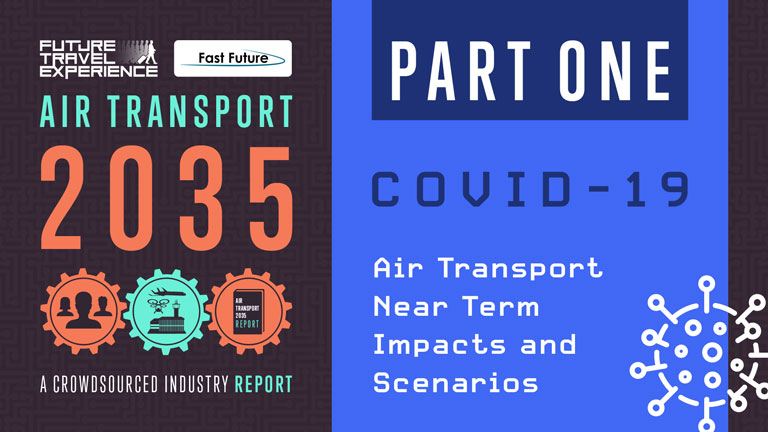 The first instalment of the report, titled Air Transport Near Term Impacts and Scenarios, was launched last month, and explores how stakeholders expect the COVID-19 crisis to impact passenger volumes and investment strategies. It also highlights four possible scenarios for how the industry might emerge from the pandemic. The study findings were discussed during a webinar, which took place on 23 April, and included a panel discussion comprising Dr Joe Leader, CEO, APEX & IFSA; Deputy Director General, Programmes and Services at Airport Council International (ACI) World; Ivan Iliev, Head of Programmes and Strategies Department, BULATSA; and Daniel Coleman, CEO, FTE.
Watch the full COVID-19 Part One webinar here
Download the reports
Both reports can now be downloaded via the Fast Future website. As part of the study partners' commitment to the sector in these difficult times, airlines, airports and government aviation agencies can receive the reports for free by sending a request to aviation@fastfuture.com. For others, it costs just US$50 per report. Until 2 June, Tuesday we are offering a 40% discount for anyone that buys Report Part One, or a 48% discount if you buy both Report One and Report Two. Use coupon code AT40 at checkout.