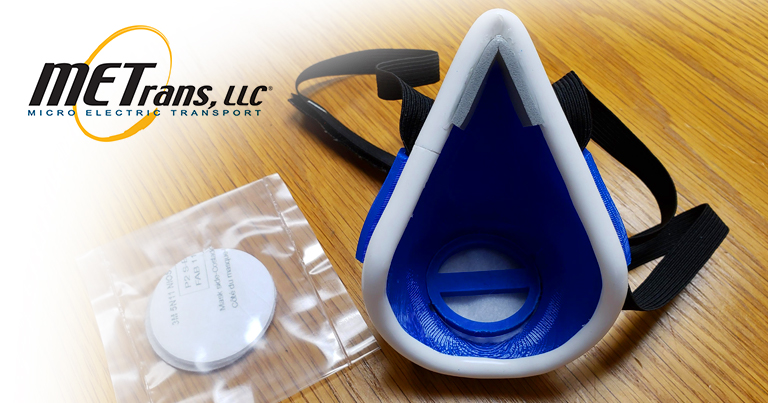 While the COVID-19 crisis has been difficult for many businesses, especially in the travel sector, one industry vendor has managed to successfully adapt its products and manufacturing operations on an interim basis, to the new reality.
US-based OEM manufacturer METrans manufactures an entirely new scale of patented, non-autonomous, electric, industrial, personnel and light burden transport vehicles and multiple, special purpose four-wheel steering trailers. METrans' products are designed to operate virtually anywhere a person can walk including offices, interior doorways, and elevators at up to 14mph and a range of up to 40 miles on one charge.
However, when the COVID-19 crisis hit, the company quickly shifted its 3D printing manufacturing focus to figure out how it could help stop the spread and tackle the face mask shortage.
For METrans the decision to start developing reusable masks, with N95 Filters from manufacturing 3D printed parts and components for its industrial electric vehicles and trailers, came "partly by accident", explains William Lawson, Senior Engineer, METrans.
"I have two friends who are medical doctors. Both of them have not been able to secure adequate supplies of N95 filter masks for the physicians, professional staff and others working in proximity to potentially infected persons. With the COVID-19 virus on the rise, both of these physicians asked if there was anything we could do."
So, in order to respond to this plea, Lawson and his team came up with the idea to design a reusable mask that would allow easy changing of N95 filter material, using the company's 3D printers, which are usually utilised to print several components of the vehicles and trailers.
The bigger problem, however, Lawson pointed out was to source the actual N95 filter material. "Most of this material is in disposable mask form, not usable for our design of reusable mask.
"The solution was to use an existing filter for an automotive painting mask which is rated at N95 and die-cut the filter material to fit our masks," he said.
The company has initially been able to 3D print approximately 20 masks per day and have been successful in acquiring N95 filter material for approximately 600 masks. Each mask includes three changeable "filter elements" allowing the masks to be used for much longer periods than disposable masks. Additionally, due to the plastic and silicone nature of the masks, they are readily washable and reusable.
"We were glad to help these first line medical personnel to be safer than without respirator masks. We think our "pivot" from vehicles and trailers to N95 filter masks shows our manufacturing flexibility and ability to make rapid changes in our business model," concluded Lawson.