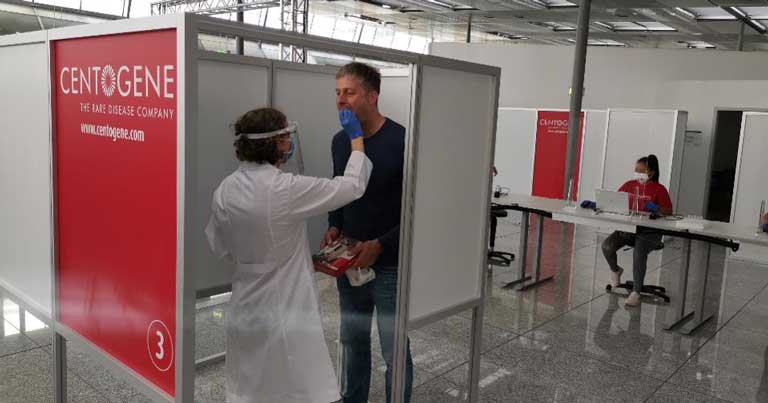 Lufthansa passengers can now get tested for COVID-19 at Frankfurt and Munich airports to avoid being quarantined, when arriving in Germany and Austria.
In Frankfurt, the airline has joined forces with Fraport and German company CENTOGENE to offer COVID-19 testing to passengers flying to and from Frankfurt Airport (FRA).
Serving as a blueprint to opening international borders, this walk-in testing solution will allow passengers to get tested for the virus and avoid going into a 14 day quarantine when arriving in Germany, Austria and other countries worldwide.
The facility uses certified PCR (polymerase chain reaction) testing kits and passengers flying to or from Frankfurt Airport with Lufthansa will be able to perform the test at a sampling centre located near the main terminal. This can either be completed the day before travelling or with a fast track solution the same day before departure.
Customers in Frankfurt are required to register for the test in advance either online via CENTOGENE's website or directly at the test centre. To ensure a smooth process, it is recommended to have the PCR test conducted one day before the departure from Frankfurt Airport or right after arrival. CENTOGENE is evaluating up to 380 tests per hour in a certified laboratory at the airport. The testing facility is open from Monday to Friday between 7am and 7pm and from 4 July it will also be available on Saturdays and Sundays between 9am and 5pm.
All results are delivered to the passenger via a blockchain-secured digital platform and connected to their ticket – providing secured clearance for passengers flying to countries with entrance restrictions. Additionally, passengers can opt into an ID confirmation service, assuring authorities that the passengers' identities correspond with the test results.
Dr. Björn Becker, Senior Director Product Management Ground & Digital Services at Lufthansa Group, commented: "By opening the test centre, we are offering our guests a comfortable opportunity to test themselves for flights abroad or a stay in Germany to avoid quarantine. Even in these challenging times, we are using our innovative strength and strong partnerships with CENTOGENE and Frankfurt Airport to ensure that our customers have a safe and relaxing travel experience."
Daniela Weiss, Fraport Vice President Duty Management Terminals, added: "We are happy to offer passengers this new service at Frankfurt Airport. This is another example of how Frankfurt Airport, together with its partners, is pioneering the development of innovative passenger services. This service ensures a safe and relaxed travel experience at Germany's global gateway, even during these times."
The exclusive partnership for Frankfurt Airport with Lufthansa and Fraport began on 29 June and is expected to run until July 31, 2021.
In Munich, Lufthansa has also launched a PCR COVID-19 test facility in partnership with the airport's medical centre MediCare.
The circumstances surrounding COVID-19 are continuously evolving. Our friends at APEX have a dedicated COVID-19 page, which they'll be updating regularly to help keep you up-to-date on how the novel coronavirus is impacting the aviation industry. Visit the page for the very latest news >>