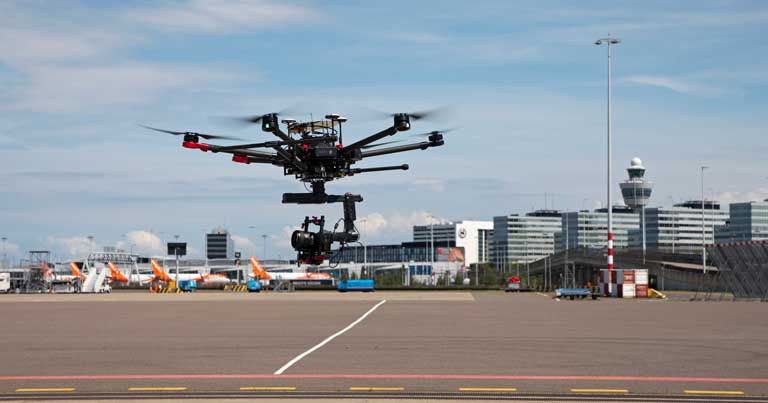 Amsterdam Airport Schiphol has begun a one-week trial involving drones with cameras for inspection of taxiways, small buildings and aircraft and drones that transport light goods between different locations at the airport.
The trial aims to explore the potential benefits of drones, for instance to inspect structures like the asphalt surface, perform operational processes such as de-icing and supply aircraft parts for maintenance.
The regulated trials will be conducted through 24 June in collaboration with Air Traffic Control the Netherlands (LVNL), Dutch Drone Delta, the Royal Netherlands Marechaussee, and Transavia.
The tests are taking place at a safe distance from runways and taxiways that are being used for air traffic. There will be visible testing on the various designated platforms and at various heights with different drones. The aim of the trial is to show how the procedures designed for the use of drones at airports work in practice.
The flights are being conducted in coordination with LVNL by certified parties who have direct contact with the air traffic control tower. Any other use of drones by unauthorised persons in the vicinity of Schiphol will remain expressly prohibited as usual. LVNL took the lead in obtaining this temporary arrangement, taking advantage from the significantly lower amount of flight movements due to the coronavirus crisis.
Hassan Charaf, Head of Innovation at Royal Schiphol Group, commented: "There is currently 85% less air traffic at Schiphol compared to the same period last year. This is extremely unpleasant for airlines and many travellers, but also gives us the opportunity to carry out a test like this. Based on this trial, we would like to find out if the use of drones is helpful to organise processes more efficiently, sustainably and effectively. We are pleased with the temporary arrangement and proud that – together with our partners – we have been able to set up this trial so quickly."