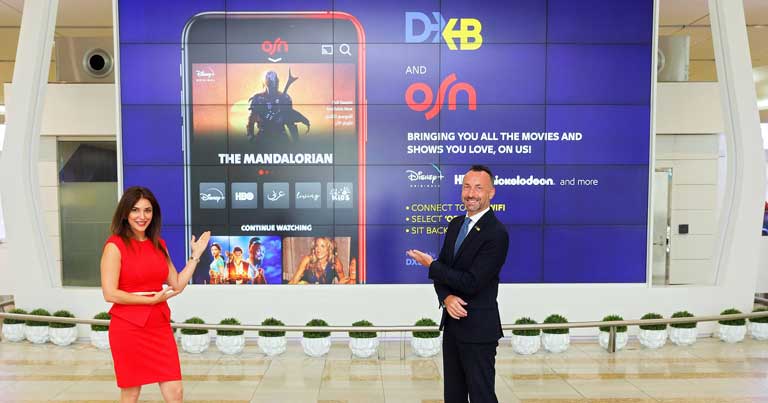 Dubai Airports has announced a strategic partnership with entertainment provider OSN to give passengers at Dubai International Airport (DXB) complimentary access to OSN's new streaming app.
According to the airport, the partnership has been developed to provide premium and exclusive entertainment to travellers on their journey through DXB.
The streaming service provides exclusive access to original content from Disney+, HBO, Universal, and many other major Hollywood studios in addition to Arabic and documentaries.
OSN's streaming library also boasts thousands of hours of universally acclaimed blockbuster movies, trending series, boxsets, kids' content, award winning documentaries, and more.
Travellers will be able to connect to OSN's new streaming app through a link on the DXB WOW-Fi and will have complimentary access for 24 hours.
Eugene Barry, Executive Vice President of Commercial at Dubai Airports, commented: "We are responding to the changing behaviour and expectations of our customers, and the demand for quality, exclusive digital content is a trend that we see growing in importance. We are delighted to partner with one of the region's most popular online entertainment providers and are excited to offer OSN's new digital platform to our travellers. The OSN streaming app, now available to all DXB customers, continues to build on the capabilities of our popular WOW-Fi platform, and further strengthens our commitment to deliver a unique customer experience at DXB."
Zahra Zayat, Senior Vice President, Telco & OTT at OSN, added: "DXB is the busiest international airport in the world and we are thrilled to be offering world-class entertainment on our OSN streaming service to every traveller passing through the airport. We saw a great strategic fit in this partnership, reflecting our mutual commitment to excellence, growth and bigger reach across the Middle East and North Africa. Travel and content consumption complement one another, and through this collaboration, we will be able to provide travellers with access to premium content and showcase our platform. If you are one of those who arrive at the airport early, or if you're looking to pass the time in transit, be sure that you will find plenty of options to choose from through our OSN streaming app."