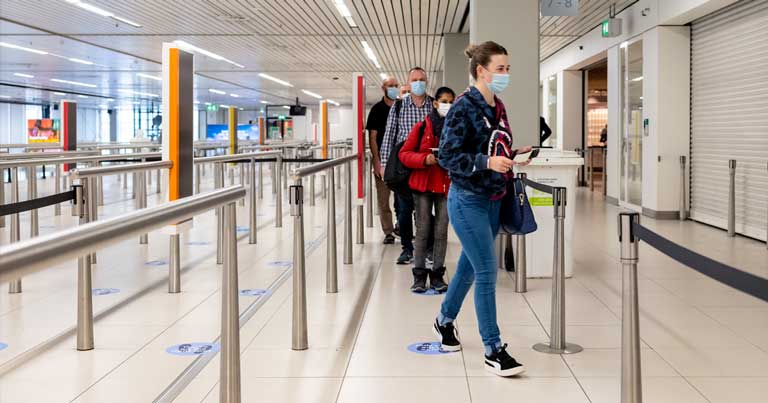 Amsterdam Airport Schiphol has announced plans to test arrivals from high-risk areas for COVID-19. The airport will be setting up a COVID-19 testing centre, which will be located in Arrival Hall 3.
The tests and administration will be arranged by Public Health Service of Kennemerland. Schiphol will ensure that the way to the testing centre is clearly marked, so that arriving travellers know where to go, while Public Health Service staff will be directing travellers from high-risk areas to the testing centre.
These areas are defined as countries or regions which have been assigned an orange or red travel advisory by the Netherlands' Ministry of Foreign Affairs.
Other measures Schiphol Airport has put in place to tackle the virus include:
Travellers must wear a face mask at check-in, security, border control and while boarding.
Plastic screen guards have been installed at all check-in, transfer and ticket desks, and at other service points.
Every second check-in desk and gate is used, where possible.
Baggage trolleys are positioned at a 1.5 metre distance at the baggage belts, and the baggage from each flight is routed to a separate belt.
The airport is fitted with stickers and markings to indicate the appropriate distance between travellers.
Airport facilities are carefully cleaned, especially in areas that are used by a large number of people, such as the trays at security control and bathroom facilities.
There are hand sanitising dispensers.
Passengers are required to have a health declaration with them.
Schiphol has deployed safeguards to remind passengers to keep their distance, wear a face mask at the designated areas and regularly wash/disinfect their hands.
Only travellers and staff should be in the terminal and Schiphol Plaza. People picking travellers up or dropping travellers off should not accompany them inside, and instead drop travellers off in front of Departures or wait for them in the car, in the car park.
The circumstances surrounding COVID-19 are continuously evolving. Our friends at APEX have a dedicated COVID-19 page, which they'll be updating regularly to help keep you up-to-date on how the novel coronavirus is impacting the aviation industry. Visit the page for the very latest news >>