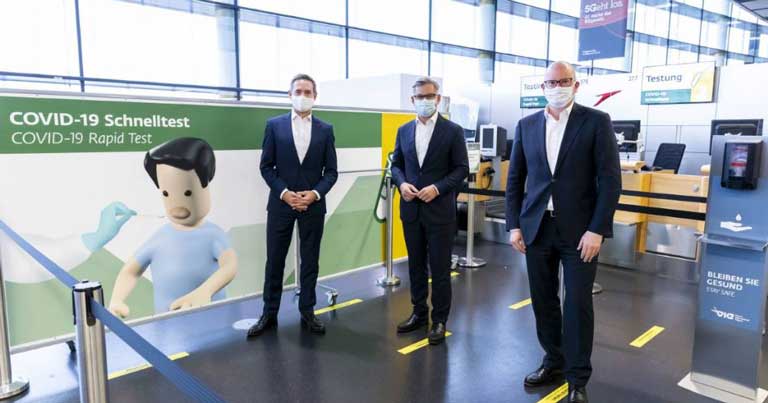 Austrian Airlines has commenced the first trials of rapid COVID-19 antigen tests in close cooperation with Vienna Airport. In the initial phase, all passengers on flight OS 229 to Berlin will have the opportunity to take a rapid test prior to departure in the period from 23 October to 8 November.
The tests are free of charge and are carried out on a voluntary basis. Vienna Airport has set up a testing centre in the check-in area of Terminal 3. After taking the test, passengers will receive their results within 10-15 minutes, either via SMS or, upon request, after personal inquiry.
The boarding card is only activated if the test results are negative, enabling the passenger to gain entry to the security area and gate. If the test results are positive, the affected passenger will be taken care of by the airport medical service in order to fully clarify the individual's medical condition. Further steps will be specified with the responsible health authorities. In this case, the passenger will be able to rebook or cancel his or her Austrian Airlines flight free of charge.
"The airplane is already the safest means of transport in the public transport sector. Nevertheless, we want to go one step further, and make travelling by air even safer", says Austrian Airlines COO Jens Ritter.
Lufthansa Group is working with partners on processes enabling intercontinental travel, while maintaining health protection. The findings derived from test operations in Vienna will be integrated into the overall project being implemented by Lufthansa Group.
"We have to dismantle the barriers created by the coronavirus over the past few months," Ritter emphasises. "For the future, our objective is to achieve corresponding loosening of travel restrictions. However, first we aim to show how a targeted testing program can work."
Austrian Airlines also says that if the trial is successful, the tests could be offered on a larger scale.
Julian Jäger, Member of the Management Board, Flughafen Wien AG, added: "The entire tourism and travel industry urgently needs future-proof solutions to get out of the crisis. Rapid antigen tests provide a quick result and can be well integrated into the operational process of an air travel. Nationwide use at airports and by airlines within the framework of a Europe-wide uniform testing regime could enable the freedom of travel for passengers, which is important for economy and tourism."