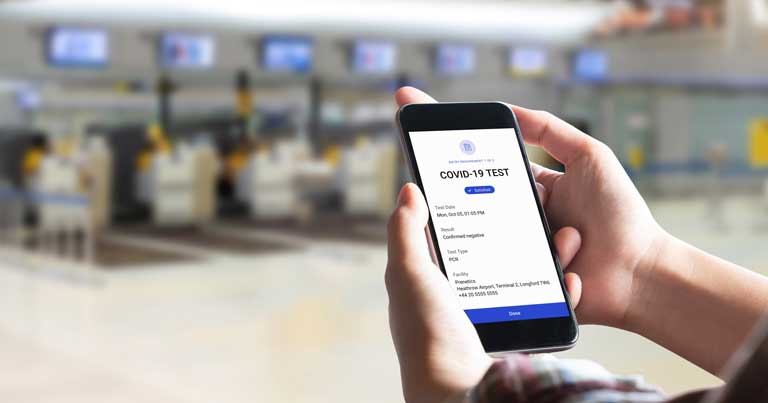 A new digital health pass for travellers, CommonPass, will begin testing internationally to enable safer travel and accelerate border reopenings, the Commons Project Foundation and the World Economic Forum have announced.
The CommonPass will allow travellers to securely document their certified COVID-19 test status while keeping their health data private.
Cathay Pacific Airways and United Airlines will be the first airlines to trial the system this month with select volunteers on flights between London, New York, Hong Kong and Singapore, with United States Customs and Border Protection (CBP) and Centers for Disease Control and Prevention (CDC) observing the trials.
To use CommonPass, travellers need to take a COVID-19 test at a certified lab and upload the results to their mobile phone. They then complete any additional health screening questionnaires required by the destination country.
With test results and questionnaire complete, CommonPass confirms a traveller's compliance with the destination country entry requirements and generates a QR code. That code can be scanned by airline staff and border officials. A QR code can also be printed for users without mobile devices.
The goal of the trials is to replicate the full traveller experience of taking a test for COVID-19 prior to departure, uploading the result to their phones, and demonstrating their compliance with entry requirements at their departure and destination airports.
For Cathay Pacific Airways, the first internal trial is planned for a flight between Hong Kong International Airport and Singapore Changi International Airport, using rapid testing technology provided by health testing company Prenetics.
"Our goal is to test and refine a system that would best support the progressive and safe re-opening of travel, through the adoption of a trusted and harmonised global framework," said Lavinia Lau, Director Commercial of Cathay Pacific Airways. "The CommonPass framework can incorporate specific requirements of individual countries and governments, and can be used to provide more assurance to travellers as well as the population of destination countries. CommonPass also helps travellers stay up-to-date with and adhere to evolving government entry policies."
For United Airlines, the first airline to trial the platform in the United States, volunteers will use the service for flights between London Heathrow Airport and Newark Liberty International Airport.
"Testing is a key component of a multi-layered approach to safely reopening travel," said Steve Morrissey, Vice President, Regulatory and Policy, United Airlines. "Trials with solutions like CommonPass are critical to demonstrate the potential for testing as an alternative to blanket quarantine measures or travel restrictions, while we continue to focus on the safety and health of our customers and employees."
Volunteers undertaking the trials with Cathay Pacific Airways and United Airlines will adhere to all entry and testing rules and will upload information from their lab tests into CommonPass before departure.
At London Heathrow, tests from private testing company Prenetics will be administered by the travel and medical services firm Collinson in the dedicated COVID-19 testing facilities set up with their partner Swissport.
CommonPass is built on the CommonPass Framework that establishes standard methods for lab results and vaccination records to be certified and enables governments to set and verify their own health criteria for travellers.
The purpose of CommonPass and the CommonPass Framework is to enable safer airline and cross border travel by giving both travellers and governments confidence in each traveller's verified COVID-19 status.
At present, there is no standard format or certification system for COVID-19 test results for travel.
Following these trials, the CommonPass rollout will expand to additional airlines and routes across Asia, Africa, the Americas, Europe and the Middle East.
The circumstances surrounding COVID-19 are continuously evolving. Our friends at APEX have a dedicated COVID-19 page, which they'll be updating regularly to help keep you up-to-date on how the novel coronavirus is impacting the aviation industry. Visit the page for the very latest news >>