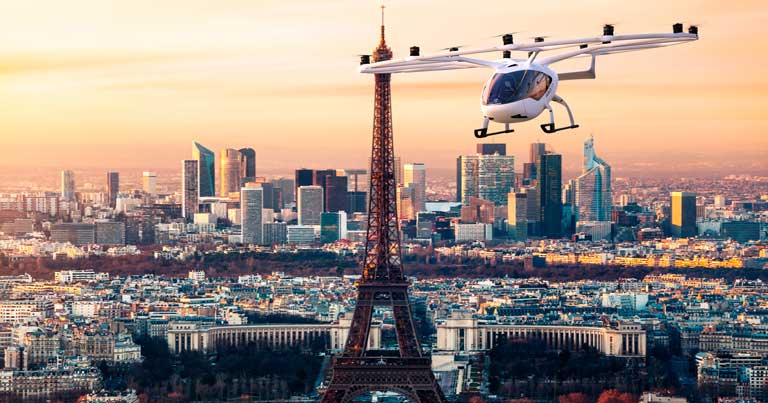 Groupe ADP has teamed up with Volocopter, the Paris region and urban transport operator RATP Group to develop an urban air mobility industry branch, with a focus on electric vertical take-off and landing (eVTOL) vehicles.
The partners have announced that they will be working together to make the emergence of this new mode of transport possible to complement the existing modes.
The partners plan to establish a dedicated test area at Pontoise airfield in a suburban location, 35 kilometres of Paris. Necessary arrangements, such as suitable parking areas, electrical recharging systems, and ground markings, will be made at the airfield in the first half of 2021, with the goal of starting testing in cooperation with France's Directorate General for Civil Aviation (DGAC) in June of next year. The site will enable a variety of operations — including parking, take-off and landing, maintenance, and recharging — to be tested in a real aeronautical environment in June 2021.
Additionally, in order to construct an ecosystem of large groups, SMEs, start-ups, laboratories, and universities in the Paris Region, the partners have launched a worldwide call for expressions of interest with the support of the Choose Paris Region agency.
This will cover all components of Urban Air Mobility, from vehicle development, urban infrastructure, operators for supplies of intermodal solutions, airspace integrations for suppliers of unmanned traffic management systems and acceptability for laboratories or research institutes dealing with social and environmental issues.
Applications are open from 1 October until 13 November 2020 on the following website: www.reinventairmobility.com. The selected projects will be announced on 18 December 2020.
Florian Reuter, CEO, Volocopter, said: "We are incredibly excited to be the eVTOL manufacturer of choice in the Paris region's Urban Air Mobility project. We will open our first commercial air taxi routes in the next 2-3 years and are excited to have a potential launching partner here in Europe."
Edward Arkwright, Deputy CEO of Groupe ADP, also commented: "Today, we aim at exploring and enabling the development of all potential futures of a decarbonised and innovative aviation. Urban Air Mobility, driven by an all-electric vehicle capable of a vertical takeoff and landing, will be able to take-off and accelerate its development through the establishment of a sandbox at our Pontoise airfield, a unique testing opportunity in Europe. In partnership with Paris Region and RATP group, and in the framework of an international call for expression of interest, we are strongly positioned to federate a unique ecosystem in Paris Region, by combining our infrastructures assets, our know-how and expertise in terms of mobility and our territorial anchoring."
As part of its plans to add a new dimension of mobility to megacities, Volocopter also recently announced a partnership with Japan Airlines to develop permanent sustainable commercial operations of air taxis in Japan in the next three years.