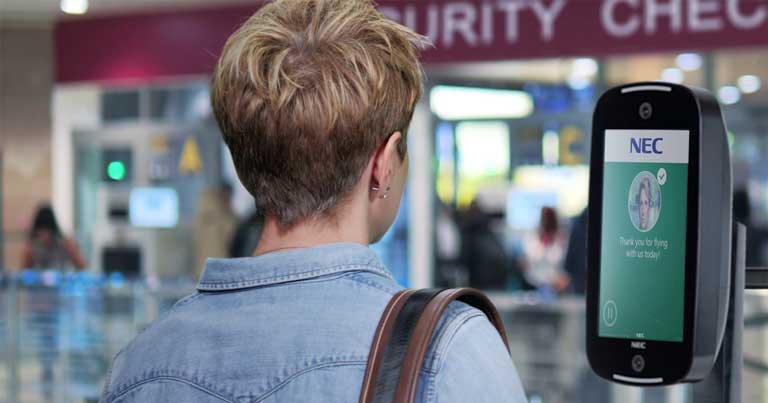 Advertorial sponsored by NEC
COVID-19 is proving to be an evolutionary catalyst for many industries, and it is already changing the way we travel. Multiple touchpoints that created packed lines of passengers are being eliminated and streamlined with biometric verification that is quick, hygienic and secure.
Airlines and airports around the world are implementing technology that enables travellers to check in with face recognition, enabling contactless passage through multiple touchpoints in the airport. With this technology, passengers can also check bags, enter security, access the business lounge and board the airplane with a secure, rapid and accurate face scan, rather than passing documents back and forth.
The same technology can be adopted at airport purchase points and even for inflight purchases to eliminate touchpoints and secure account access.
Thermal scanning simultaneously works at the touchpoints to check whether passengers have an elevated body temperature (EBT), one common sign of illness. Advanced face recognition technology can authenticate a person even when a large part of the face is concealed by a mask.
Wider adoption
Biometric and thermal scanning technology has been proved in other applications, but the COVID-19 pandemic is propelling adoption by the travel industry in order to streamline traffic and restore confidence in safe air travel. The key to success is the integration of several important technologies into a seamless process.
In 2019, Star Alliance announced that it was developing a biometrics application powered by the NEC I:Delight platform. Launching soon in Europe, the app will empower travellers to register their digital identity for paperless boarding passes and authentication.
Travellers who choose to enrol are linked with partner airlines and airports through a shared technology service upon adoption. Using the Star Alliance app, a traveller experiences seamless recognition at each checkpoint with partner airlines and airports along their journey.
Biometric verification can also be used for security and customs checkpoints, although each country has distinct requirements for security screening. To address this, NEC announced a partnership with SITA in July, enabling local experts at each airport to customise the I:Delight platform for compliance and scale. This means all systems adhere to country and local policies, and travellers can learn how their data is used.
When the app is fully implemented, passengers can enable face recognition to approve purchases in airport shops, with airlines, hotels and even car rental services. No credit cards or passports are needed, just a quick facial scan to confirm identity for a secure transaction. Star Alliance also plans to enable customers to use their travel reward points system as a purchasing method for inflight and off airport services. Travellers maintain self-sovereign identity, which means they can select who they will share their information with.
Face recognition is intuitive and transcends language barriers; people generally know how to take a selfie, so it's natural to look at a screen for a snapshot. Results are extremely quick: the photo hits the cloud, a match/no match is performed, and a red or green light response is visible – a universal signal for a person to stop or go ahead. Face coverings during the pandemic raise a new challenge, but NEC's face recognition algorithms gather enough data from the visible part of the face to verify a traveller.
Future-proofing
Although this concept was created to handle the growing volume of passengers before the unexpected pandemic, it has formed the foundation for the transformation that the industry needs today. Touchless processing of passengers and employees improves safety and efficiency for everyone, while also improving customer experience and relieving the stresses of document and ticket validations for airline agents.
After the pandemic has passed, biometrics will enable a lasting improvement to the travel experience by offering fast-moving contactless checkpoints to travellers who opt in. When airport checkpoints move smoothly, travellers have more time to shop, dine and relax before their flight.
This new era of air travel addresses challenges facing both the aviation industry and travellers. Passengers will be empowered to choose a system that protects their personal information and reduces their wait times, and airlines can restore business flow with reduced risk to employees through public contact points.