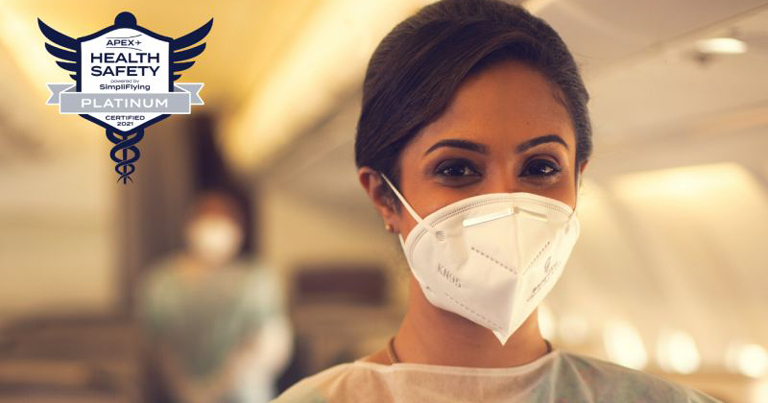 The Airline Passenger Experience Association (APEX) has announced the first COVID-19-certified airlines for the customer-centric APEX Health Safety powered by SimpliFlying.
With 33 airlines currently advancing through the review process, APEX has revealed the first 12 launch airlines serving six continents that have fully completed the audit, review process, and have been certified.
The APEX Health Safety powered by SimpliFying is free of charge and consists of a 58-point checklist and covers 10 airline categories for submission verification, validation, and quarterly review certification process.
The questionnaire covers 10 categories, including testing, tracing, on-the-ground procedures, in-flight measures and even co-branded partnerships that further the integrity of airline product safety. The results are validated by SimpliFlying before the airline receives a grade. So far, 33 airlines are participating in the programme.
"As more travellers return to the skies, APEX wants customers to know the verified steps being taken by airlines worldwide for their well-being," APEX CEO Dr. Joe Leader stated. "Every step that we take with airlines to set even higher standards for health safety for passengers ultimately helps keep people safer in the air and on the ground. With the APEX Health Safety powered by SimpliFlying certification, we provide the external validation and discussion needed further backed by Simplifying's incredible depth of expertise."
Twelve global airlines have been certified so far, including Air Canada, Alaska Airlines, Etihad, JetSmart, Qatar Airways, Saudia, Singapore Airlines, Spirit, Sri Lankan, Turkish Airlines, United Airlines and Virgin Atlantic. Each airline will announce whether they received a Gold, Platinum or Diamond rating.
Expanding on the significance of the three tiers, Dr. Joe Leader, CEO, APEX/IFSA, said that the majority of airlines worldwide would reach Gold status. To achieve a Platinum rating, airlines must implement 50% more safety steps than required for Gold status. Diamond ratings indicate that an airline has put in place hospital-grade health safety measures, processes and training, along with an end-to-end focus on wellness.
"We believe that health and safety should not be a way for airlines to compete with one another. There needs to be a gold standard that all airlines should meet or exceed to ensure passengers can trust the transport mode. This is what the APEX Health Safety powered by SimpliFlying delivers, in a quantitative manner," SimpliFlying CEO Shashank Nigam commented. "Airlines and aviation professionals will look back years from now recognising the lives that they saved by investing so heavily in enhanced passenger well-being."