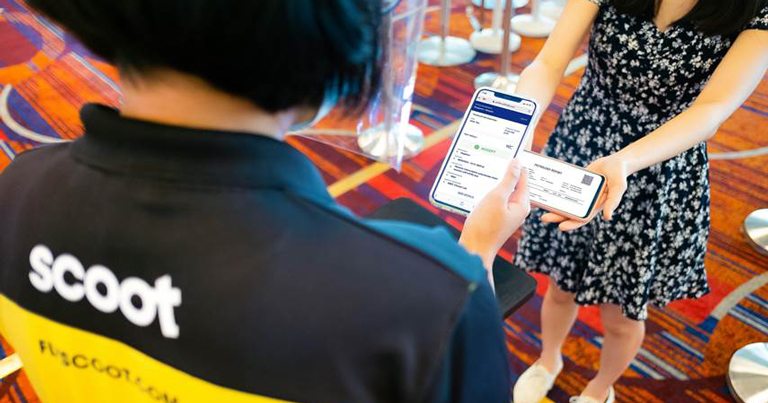 Scoot is trialling two new digital solutions, offering customers a one-stop solution for COVID-19 pre-departure tests (PDTs) and a more seamless process when verifying their test results.
A complimentary online portal will allow customers departing on flights from Singapore, Indonesia and Hong Kong to book PDT appointments with recognised and accredited partner clinics, make payment for the tests, and receive results in digital form within 36 hours.
The portal, created and managed by Collinson, can be accessed via the Scoot website or mobile app during and after booking their flights, as well as via email reminders.
The test results obtained through the portal contain QR codes which can be authenticated digitally, streamlining verification and strengthening the integrity of the process.
Scoot is trialling a digital verification solution from Affinidi, a Temasek-founded technology company, at check-in for selected flights from Singapore, Malaysia, and Indonesia. By scanning the QR code with a secure app, check-in agents are able to quickly and reliably determine the authenticity of digital or printed COVID-19 test results bearing a verifiable QR code, issued by selected clinics. Scoot says that the aim is to shorten the time required for customers to complete the check-in process, thereby improving their travel experience.
"Through both solutions, we hope our customers can be assured of a more convenient, efficient and reliable experience when they travel with us," said Campbell Wilson, CEO, Scoot. "These, among other initiatives by Scoot, not only support the gradual re-opening of borders with robust safeguards in place, but also aim to meet customers' expectations in a post-COVID world."
Todd Handcock, President, Asia Pacific, Collinson, added: "We are delighted to further expand our successful partnership with Singapore Airlines by offering COVID-19 pre-departure testing for Scoot passengers. Helping to reopen key routes for travellers in a safe way is our utmost priority and this partnership is another step forward in our aim of achieving the long-term return of global travel. Whilst the roll-out of vaccines is gathering pace across the world, there remains a complex road ahead. With Collinson managing over 190,000 COVID-19 tests to date since the start of the pandemic, we remain dedicated to restoring confidence in travel through the implementation of robust testing protocols across the globe."
"We applaud Scoot for being among the first few airlines in Singapore to prioritise travellers' needs and safety while maintaining privacy; ensuring travel experience is as seamless and efficient as we reunite people to families and jobs to economies as they take to the skies," said Glenn Gore, CEO, Affinidi.