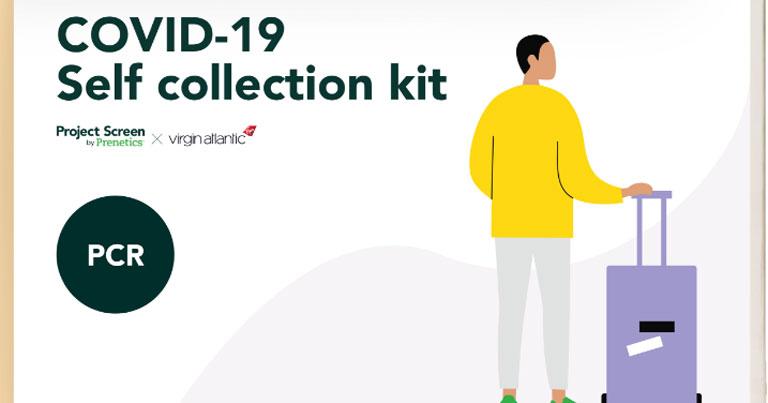 Virgin Atlantic has partnered with COVID-19 testing provider Prenetics to offer customers at-home COVID-19 testing packages.
Expanding on Virgin Atlantic's existing testing partnerships, including an online lab locator tool and airport testing, Prenetics will now be Virgin Atlantic's preferred at-home testing provider, allowing customers to order a complete end-to-end travel testing bundle, tailored to their destination, via a dedicated microsite.
Each bundle is based on the UK Government's risk-based travel traffic light system for arrivals to England, starting from £152 for a 'green' country and £179 for an 'amber' country.
Round-trip bundles are initially available for Israel, Nigeria and Grenada and as requirements ease, this list will likely expand.
The bundles include all the tests customers require and include a convenient remote 'test to carry' rapid antigen test, which passengers can administer before returning to the UK, in line with the country's pre-departure testing requirements.
The packages will also include UK Government approved arrival packages for Day 2 and/or 8 of self-isolation at home with an option to add a PCR test at day 5 for early release from quarantine, where this applies for amber countries. To offer customers peace of mind, the pre-purchased bundle can be easily changed if a destination changes from green to amber for example, with customers simply required to pay the difference or they will be issued with a refund.
The results of the rapid antigen test are returned within 15 minutes and for PCR tests, customers send their sample via a return envelope to an accredited Prenetics lab and will receive their results within 24 hours of receipt at the laboratory via email or notification on the website. All customers receive a "Fit to Fly" test certificate, that can be presented digitally, used in the digital pass solutions Virgin Atlantic is trialling, or in paper format.
Using the dedicated Virgin Atlantic and Prenetics microsite travellers need to select the country they are travelling to, and the tests will be packaged up into a single bundle. The easy purchase process has been designed to remove any complexity from complying with travel testing regulations, at a competitive price and with the knowledge that Prenetics offers reliability, and fast turnaround times.
Corneel Koster, Chief Customer and Operating Officer, Virgin Atlantic, commented: "As the skies reopen we're ready to ensure that we protect public health and enable our customers to book and travel smoothly with confidence. Based on the UK Government's traffic light system, with Prenetics we have developed convenient and rapid at-home testing bundles, tailored to destination countries, including Israel which we'll increase to double-daily services later this summer, helping customers to easily navigate new testing requirements in one simple purchase, with an important offer of flexibility to give peace of mind if a country changes tier.
"We cannot have a prohibitively expensive testing system that puts businesses, individuals, and families off travelling, which is why we are pleased to have worked closely with Prenetics to offer competitive prices for our customers and will continue to review these regularly. With the UK's world-leading vaccine roll-out, the Government must also go further to expand the green list and significantly update the traffic light framework, enabling travel without testing and quarantine – for 'Green' countries and vaccinated passengers travelling to 'Amber' destinations."