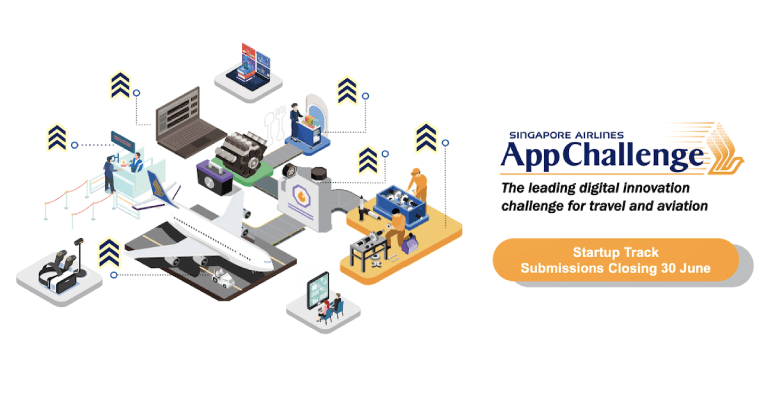 Through 10 exciting challenge statements across three themes, Singapore Airlines is calling out to all startups and scaleups from around the world to participate in the AppChallenge 2021 – Startup Track.
Whether you hail from New York, Beijing, Jakarta or anywhere in between, if your digital solution has the potential for the airline to lead the new world, you should submit an application. The FTE Innovation & Startup Hub is proud to once again be a Community Partner of the SIA AppChallenge.
The three themes are: Seamless Travel Experience, People and Operations, and Sustainability. The successful applicants will have access to a range of collaboration opportunities, including direct collaboration with Singapore Airlines Group companies' business teams; mentoring by aviation and travel industry veterans; networking opportunities with renowned brands in the industry; and exposure and insights into the exciting global aviation industry. Solutions with business potential will be fast-tracked into the SIA Accelerator Programme.
In total, up to five finalists from the Grand Finale round will have the opportunity to fast-track their solutions through the Singapore Airlines Accelerator Programme. This will include dedicated SIA business and tech mentors; access to Singapore Airlines and key partners' APIs; workspace and facilities at Singapore Airlines Digital Innovation Lab, KrisLab; and funding support.
The Submission Round closes on 30 June 2021. For more information or to participate in the AppChallenge, visit the SIA AppChallenge website here.
To learn more, you are also invited to attend the Virtual Roadshows, which include insights from previous finalists, plus more information on each of the challenge statements:
28 May, 16:00-17:00 SGT (available to re-watch online)
4 June, 15:00-17:30 SGT (Seamless Travel Experience & Sustainability themes)
11 June, 15:00-18:00 SGT (People and Operations theme, plus 'Ask-Me-Anything' session)
25 June, 16:00-17:00 SGT (NUS Enterprise Innovation Roundtable)
Learn more about the SIA AppChallenge and participate >>