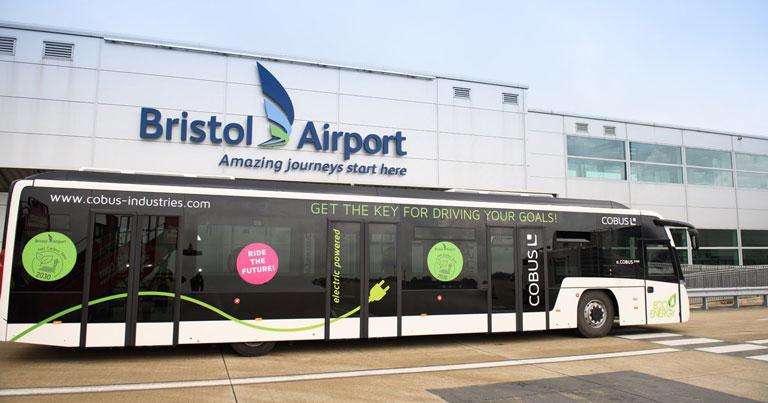 Bristol Airport is trialling a new electric airside bus, as part of its efforts to become net zero by 2030.
The bus, supplied in partnership with COBUS Industries, has the capacity to carry up to 110 customers and will operate between Bristol Airport's terminal building and aircraft. The fully electric vehicle includes state-of-the-art features to maximise safety and comfort. The operating benefits of the bus will be studied and compared to the existing fleet.
Last month, Bristol Airport announced their ambitious plan to become Net Zero by 2030. The focus is on continual improvement, embracing new and innovative ways of working and ensuring a sustainable future for Bristol Airport and the region.
James Shearman, Head of Sustainability, Bristol Airport, commented: "We are committed to embedding sustainability principles into the way we work every day, the way we develop and the way we collaborate. We are delighted to be working with COBUS Industries in helping deliver our sustainability targets and reducing airport emissions. This is only one project we are working on to achieve being a Net Zero Airport operation by 2030."
Patricia Vasconcelos, CEO, COBUS Industries, added: "We are all living in a fast moving, noisy and frantically busy environment and are facing enormous challenges in all areas of our private and professional lives. One of the busiest places for both business and private trips are the airports, conglomerates of different cultures and personal needs. Today's challenges in terms of sustainability and environmentally friendly technologies are intrinsic goals for airport authorities, airlines and ground handling companies. The team of COBUS Industries, manufacturer of the COBUS airfield bus, is following this movement with large ambitions and high motivation to offer passengers the best possible comfort in our COBUS airfield bus and help our customers to drive their ambitious goals towards environmental protection, sustainability and future-oriented technologies on airports. We are therefore very pleased and proud that our valuable and long-term customer Bristol Airport is willing to test our fully-electric COBUS and to continue our partnership."
easyJet has also announced that it will use Bristol Airport as a test-bed to trial and implement the latest technological and innovative solutions for decarbonising its operations and reducing waste.