Future Travel Experience is closely following the news about Russia's devastating attack on Ukraine. Just as the aviation industry was slowly getting back on its feet following the easing of COVID-19 restrictions, air travel is set to be disrupted again.
To give a sense of the impact of the current events, data and analytics company Cirium has highlighted that prior to Russia's invasion, average daily number of aircraft passing through Russian-controlled airspace in February was 3,203. According to consulting firm IBA Consultants, Russia accounted for 6% of airline capacity in 2021.
Today, Russia has closed its airspace to 36 countries, including all 27 members of the EU, leading to a 42% drop in flights to/from Europe flying over Russian airspace. The airspace over Ukraine is also empty.
Flight bans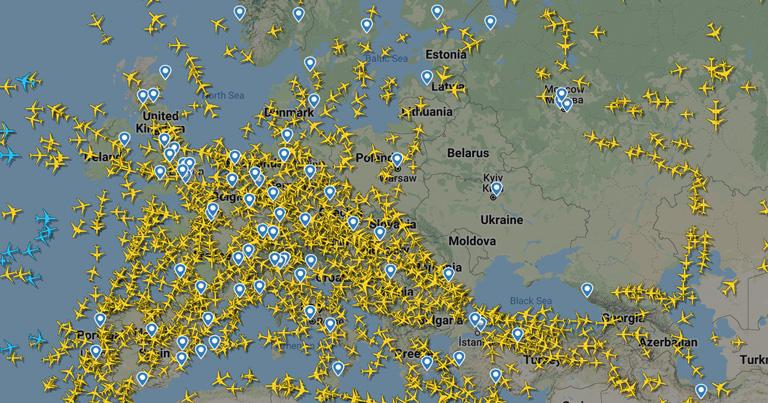 In the past week, we saw countries around the world unite in their efforts to block Russian aircraft from using international airspace. Last Sunday, the European Union announced that it is prohibiting all Russian-owned, Russian-registered or Russian-controlled aircraft from its airspace. The UK also followed suit and banned Russian aircraft from its airspace, with Russia subsequently barring all UK aircraft from Russian airspace.
Moreover, on Wednesday the US Department of Transportation and its Federal Aviation Administration issued orders blocking Russian aircraft and airlines from entering and using all domestic US airspace. "The United States stands with our allies and partners across the world in responding to Putin's unprovoked aggression against the people of Ukraine," said US Transportation Secretary Pete Buttigieg.
The closure of Russian airspace is having significant impact on long-haul routes from Europe to Asia, which play an important role in the route networks of carriers, such as Finnair. In a direct response to the crisis, Finland's flag carrier cancelled its passenger and cargo flights to Seoul, Osaka, Tokyo, Shanghai and Guangzhou in Asia and to Moscow and St Petersburg in Russia between 28 February and 6 March.
"The crisis in Ukraine touches all Europeans, and we understand the EU's decision to close its airspace. We are implementing our contingency plan as the situation has a considerable impact on Finnair. Bypassing the Russian airspace lengthens flight times to Asia considerably and, thus, the operation of most our passenger and cargo flights to Asia is not economically sustainable or competitive," Finnair's CEO Topi Manner said.
Finnair has since announced that from 9 March it will be resuming its flights to Tokyo Narita Airport four times a week out of Helsinki, avoiding the Russian airspace. The flight time is approximately 13 hours and the flights connect smoothly to Finnair's European network via its home hub Helsinki Airport.
"Japan is one of our most important markets, and we want to continue offering safe and reliable connections between Helsinki and Tokyo also in this situation", says Ole Orvér, Chief Commercial Officer, Finnair. "Japan is also an important cargo market, and air connections are needed to keep cargo moving."
Delta suspends Aeroflot codeshare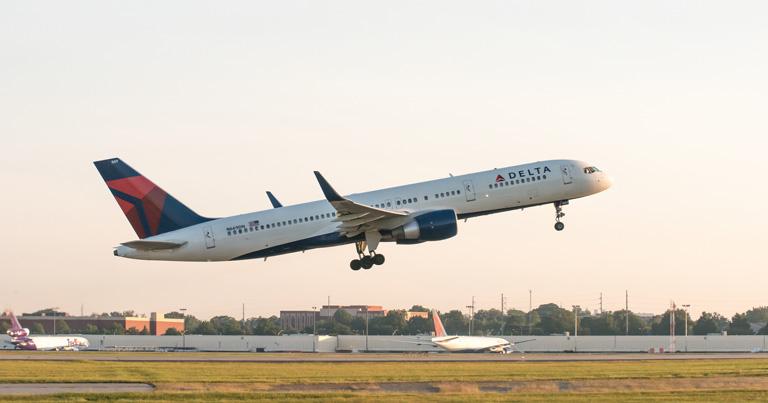 Last Friday, Delta Air Lines announced it is suspending its codeshare agreements with Aeroflot in response to the current events. "We have removed our code from Aeroflot-operated services beyond Moscow's Sheremetyevo Airport and removed Aeroflot's code from Delta-operated services from Los Angeles and New York-JFK. Accommodations will be made for customers affected by these changes," Delta said in a press release.
Delta and Aeroflot are both SkyTeam members, however, so far the alliance has not made a commitment to remove the Russian state-owned carrier's membership. "SkyTeam is monitoring ongoing events in Ukraine closely and is in contact with our members to assess the situation as it evolves," the group said on Twitter.
Wizz Air to provide 100,000 free tickets to Ukrainian refugees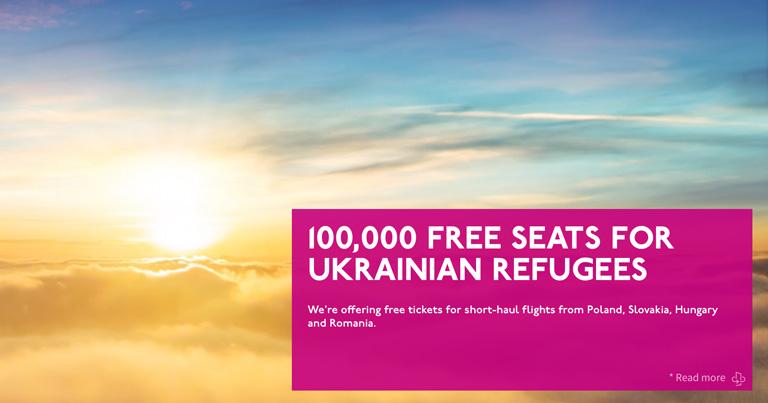 In other news, Wizz Air announced that it will support Ukrainian refugees by offering them 100,000 free seats on all continental Europe flights departing from Ukraine's border countries, including Poland, Slovakia, Hungary and Romania throughout March. The airline said it is "committed to helping the refugees reach their final destinations, wherever that may be". Wizz Air has already added larger planes and extra flights from border countries to Europe to help support the movement of refugees as necessary.
In addition, Wizz Air said it recognises that many refugees may be stranded in other locations and will also offer a €29.9 rescue fare on all other flights, excluding the UAE, Iceland and the Canaries, as well as a €69.99 rescue fare on all flights to the UAE, Iceland and the Canaries.
Ukrainian refugees wishing to book a flight can do so by visiting a dedicated page on Wizz Air's website: https://wizzair.com/#/rescue. Passengers will be required to provide their Ukrainian passport/ID card number at time of booking and show their Ukrainian passport/ID card at time of check-in.
József Váradi, Chief Executive Officer of Wizz Air, said: "Our hearts are with the Ukrainian people during this crisis. We are committed to helping as many Ukrainian refugees as possible to get to a safe place, which is why we will be offering them 100,000 free seats from the border countries and special rescue fares on all other flights. We have already seen great humanitarian efforts on the ground by our people across the network, and as a company we wanted to play our part in these efforts. We would be happy to provide a safe and welcoming journey for these refugees."
Boeing and Airbus cutting ties with Russia
Meanwhile, Boeing, Airbus and oil giant ExxonMobil announced that they will stop supplying aircraft parts and services to Russian airlines. Boeing said in a statement: "We have suspended major operations in Moscow and temporarily closed our office in Kyiv. We are also suspending parts, maintenance and technical support services for Russian airlines. As the conflict continues, our teams are focused on ensuring the safety of our teammates in the region."
In a statement, sent to Reuters, Airbus said: "Airbus has suspended support services to Russian airlines, as well as the supply of spare parts to the country."
"The Airbus Engineering Centre in Russia (ECAR) has put on hold all its operations for Airbus in line with sanctions," the statement said. "Regarding engineering services ECAR provides to its Russian customers, ECAR is analysing the export control sanctions to determine if this activity can be maintained in line with the sanctions."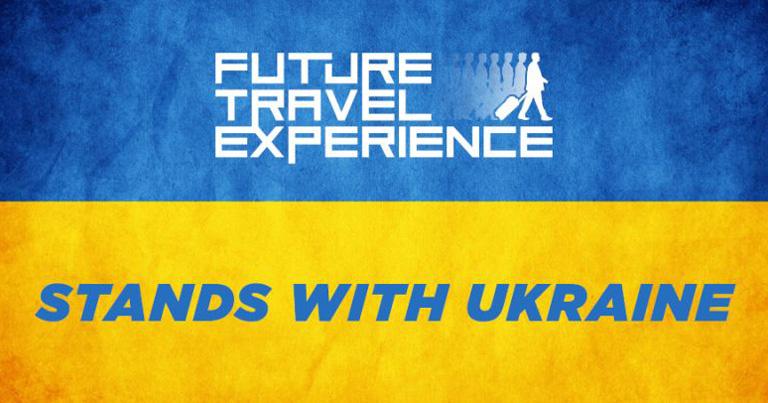 In solidarity with the people of Ukraine, Future Travel Experience announced that all Russian state enterprises are suspended from attending any FTE events until further notice. We believe the world must stand united against Putin's criminal invasion, and we should all do everything we can to support those affected and help ensure peace prevails quickly.