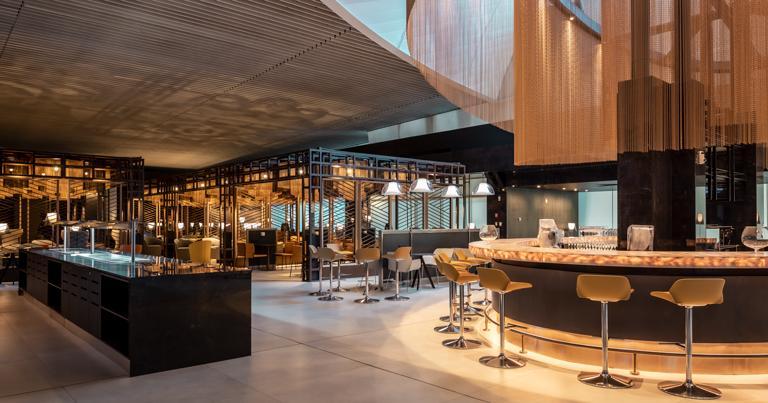 LATAM has opened a new lounge for international travel at Santiago International Airport, replacing its old VIP lounge. The 4,000 sqm "LATAM Lounge" is located in Santiago Airport's new Terminal 2, and is available to all passengers who are part of the LATAM benefits programme in the Black Signature, Black and Platinum categories, for flights in Premium cabin, alliance customers and Business partners, travelling on international flights, or making stopovers in Chile.
The new lounge will offer enhanced services, including lockers for hand luggage, sleeping areas, special areas for children and families, showers, open bar, buffet service with Latin American cuisine, ironing service, shoe shine, and co-work areas.
In line with the group's sustainability commitment, the new space will operate on 80% renewable energy, and will feature interactive games with educational themes surrounding recycling and conservation. The new lounge will also compensate its carbon footprint through unique ecosystem conservation projects in South America.
"Our decision making is always guided by our customers, and we continue to advance an experience where everyone can choose what is important for their trip. We have promoted changes and innovations in our new Lounge to create a space that highlights the best of our region and where there are options for everyone to enjoy their time as they see fit," said Paulo Miranda, Vice President of Customers, LATAM Airlines Group.
"This represents another step in the group's sustainability strategy, which we are convinced should be an integral aspect in all our areas. It must guide us and be at the centre of what we do," added Miranda.
The upcoming FTE EMEA & FTE Ancillary shows, co-located with the FTE World Airport Retailing Summit, taking place on 7-9 June in Dublin, will feature a dedicated Lounge Innovation Forum, designed to provide inspiration on what we can expect from the airport lounge in the future. Stay tuned for more information coming up in the next few weeks. Find out more about the FTE Dublin mega-show here.