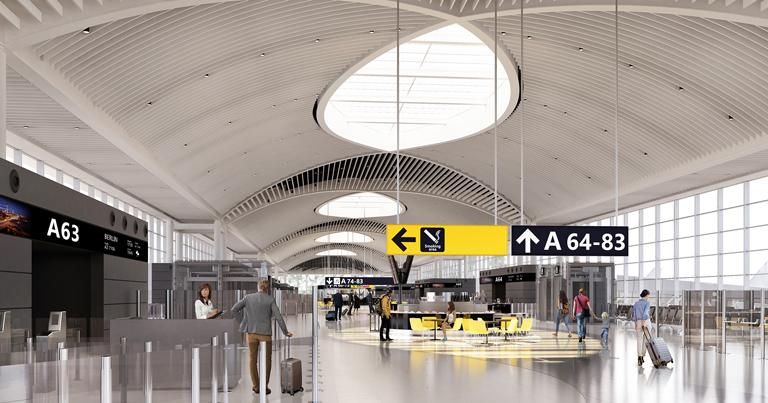 Aeroporti di Roma has opened a new boarding area A for Schengen and domestic flights at Rome Fiumicino Leonardo da Vinci Airport.
The new 37,000 sqm Boarding Area A will accommodate an additional six million departing passengers annually thanks to 23 new gates, 13 of which are equipped with boarding bridges. The project also features an exclusive shopping gallery with over 6,000 sqm of space dedicated to the airport's retail and food & beverage proposition.
Rome Fiumicino says it is among the first airport infrastructures of this size with Leed Gold certification powered by photovoltaic panels.
The infrastructure is an important step in the project to upgrade the eastern area of the airport with a total investment of €400 million. It also forms part of Aeroporti di Roma's airport development project and of the Atlantia Group's sustainability and innovation-oriented path, whose focus is to make investments that enable the energy transition of its assets while at the same time activating its strong technological upgrade.
The airport has also partnered with Ostia Antica Archaeological Park, with sculptures and paintings from Ancient Rome on display throughout the new pier, including statues of nymphs, groups of wrestlers, Apollo citaredo and Sabina as Ceres, as well as frescoes depicting a knight and a married couple.
Aeroporti di Roma CEO Marco Troncone said: "The infrastructure we are inaugurating today is a symbol: a testimony to the value of Italy, which does not stop despite the difficulties and starts again with courage and vision. "With the opening of boarding area A, we ensure our concrete contribution to the country's restart, preparing ourselves to face the next opportunities for revival, such as the Jubilee 2025 and Rome's candidature for Expo 2030, which offer Italy and its Capital the chance to reaffirm its central role on the international scene. In this context, we want Fiumicino to continue to be an excellent visiting card: Italy's future-proof gateway.
"The new boarding area A is part of a broader programme that envisages investments of EUR 10 billion – 2 of which have already been spent – up to the end of the concession, to support the country's international connectivity and to continue to feed, to an ever-increasing extent, the socio-economic sector, while anticipating the necessary ecological and digital transition together with the best Italian and international excellences."
Atlantia CEO Carlo Bertazzo also commented: "ADR represents one of the jewels of our Group. In just a few years, it has transformed Fiumicino into the European hub most appreciated by passengers for the quality of its services, investing over €2 billion in infrastructure and new technologies. The airport operates based on a highly sustainable development plan and is one of the ten international airports that have received the highest level of Airport Carbon Accreditation certification and will be able to reduce its emissions to zero by 2030."
He continued: "Furthermore, the new Boarding Area A inaugurated today, which follows on from Area E opened at the end of 2016, is a gateway to the future of the entire airport sector: its design is entirely 'made in Italy' and allows it to offer passengers and airlines a competitive and top-quality platform. As shareholders of ADR, we are very pleased to be able to play our part in helping the tourism and aviation sectors recover. My heartfelt thanks today go to the company's management and to all the airport workers who have never stopped even in these two difficult years: only through courage and great passion is it possible to achieve these extraordinary results."