Just a few days after our Future Travel Experience mega-show in Dublin, which took place on 7-9 June, the FTE team headed to Passenger Terminal Expo (PTE) in Paris to scout for further innovations that can improve airport operations and the passenger experience. Here we highlight some of the most exciting products we spotted at the show.
Cloud operations tool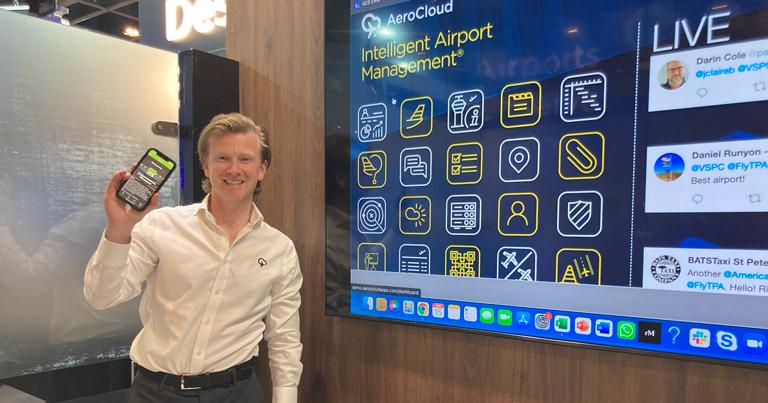 AeroCloud entered the market in 2019, addressing airports' need for alternative solutions to outdated and obsolete legacy technology. George Richardson, CEO and co-founder of AeroCloud, commented: "We're a cloud-operations tool, which provides airport operation directors with a crystal ball to help them predict the future. AeroCloud's ethos is about spreading all of the information airport-wide to all of stakeholders for an unlimited user licence agreement. What we do specifically is we centralise the airport data into what is now known as the Intelligent Airport Management Platform." The management platform is designed to increase airport throughput, centralise all airport data, automate tasks, predict passenger flow, manage gate usage and ensure all airport stakeholders have access to modern, reliable and intuitive technology solutions. As the solution is cloud-native, its data insights can be accessed via its web interface by team members on any device or browser that is connected to the internet. "We believe this is a turnkey solution for airports that need to optimise their efficiency. We have 18 customers globally with our largest airport client being Tampa International Airport and our smallest customer Pitt-Greenville Airport. The idea is that we are offering them the same solution – it's scalable, affordable and it can be implemented within 48 hours."
360-degree digital-first communication strategy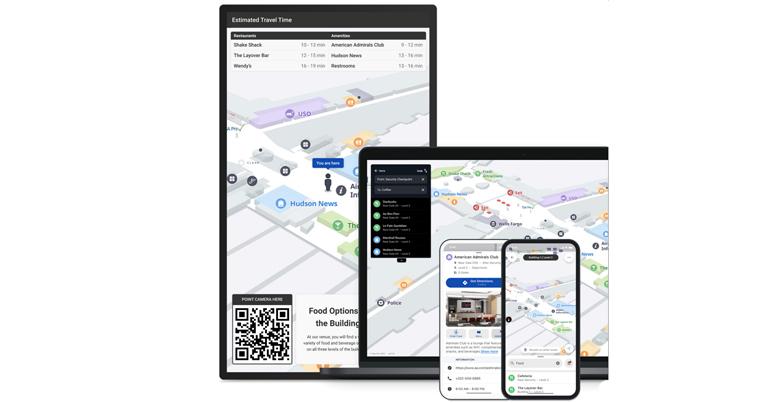 Providing passengers with real-time information about the airport environment right at their fingertips is a big focus for the industry right now, and leveraging on this trend is Atrius. Building on the success of its former company name LocusLab, the indoor mapping and wayfinding solution now continues to thrive within the Atrius ecosystem as Atrius Personal Wayfinder. The solution turns the airport terminal into a data-rich intelligent space to inspire and guide passengers. Zach Spencer, Director of Sales, Atrius, explained: "Atrius provides solutions for intelligent spaces with the mission to make the built world smarter, safer and more sustainable. We are a full-service location services company and we provide everything from the indoor positioning down to connected interactive maps and wayfinding. Passengers can engage with the maps and discover and explore what the airport space has to offer and effectively navigate that." The company uses mechanisms to seamlessly integrate into mobile applications, websites and digital displays, thereby creating a seamless 360-degree communication strategy. The intuitive indoor mapping solutions not only provide passengers with real-time information, but also help passengers locate dining, retail and other airport amenities, while helping airports easily update concession information, including locations, open hours, and contactless services. "A big trend that we have seen in air travel the past two years is how do we combine the digital and physical space. In the BYOD world we live in now, it's about enabling passengers to find things from their mobile devices, as opposed to going to information kiosks, where airlines and airports have had to cut back on staff. This also allows people to have a more personalised experience," Spencer explained. Ultimately, Atrius has built an ecosystem whereby airports, airlines and other day of travel operators can communicate what is going on at the airport environment, increasing collaboration between all parties.
Ultra-slim self-service bag-tagging unit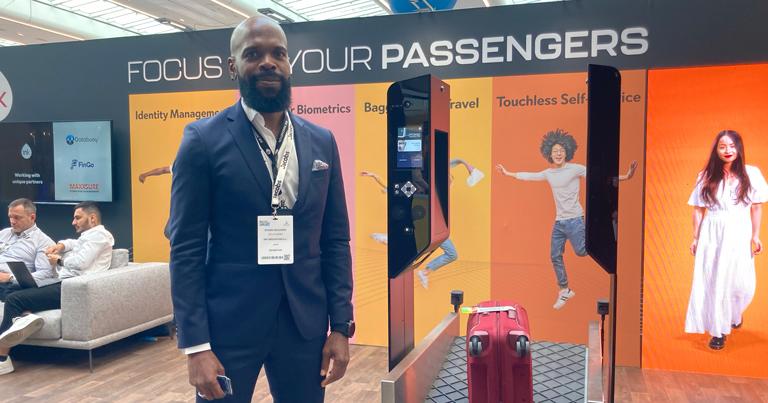 Ink Innovations presented its self-service bag-tagging unit, Ink QuickTag Lite. FTE caught up with the company's CEO and Founder Shawn Richards, who told us more about the new ultra-slim affordable self-service units. With the new Ink QuickTag Lite solution, airports can retrofit check-in halls and bag-drop areas with touchless barcode scanning and biometrics to create a tag-and-drop space for passengers. Importantly, Richards stressed that the solution has been designed to integrate with any departure control system (DCS). Addressing current issues around staff shortages, Ink QuickTag Lite has also been designed to issue tags with minimal staffing. Moreover, staff can perform check-in, bag-drop and boarding processes from smart handheld devices. "We are positioning these devices for low-cost and ultra-low-cost airlines and domestic, regional airports. We are going after a good pricing model and all of our devices have a very small footprint," Richards shared.
Join us at FTE Global in Las Vegas on Sept 6-9 – click here to learn more
Join us at FTE APEX Asia Expo in Singapore on Nov 9-10– click here to learn more
Seamless biometric check-in to boarding experience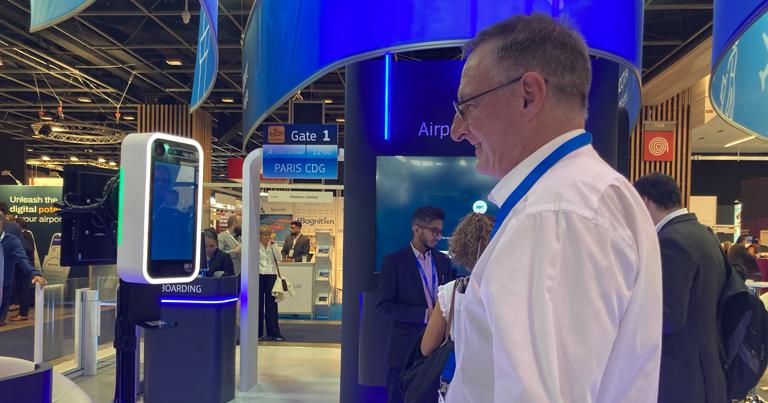 FTE also caught up with Richard Dinkelmann, CEO of ICM Airport Technics, an Amadeus company, who provided a guided walkthrough of the company's complete end-to-end biometric passenger journey from check-in to boarding. Powered by facial recognition technology, the solution empowers passengers to pass from check-in to boarding using biometrics, eliminating the need to continually present passports and boarding passes. The experience sees the passenger check-in at a biometric kiosk, where the passenger's facial image is captured and verified against their passport. Once the verification process is done, luggage is dropped quickly and easily at an Auto Bag Drop (ABD) unit, with passengers automatically recognised by the camera embedded in the unit as they approach it. They can then pass through the security and boarding gates, equipped with cameras that automatically validate the passenger's identity. The biometric process, which pioneered at Narita Airport in April 2021, uses IATA One ID.
NFT as a service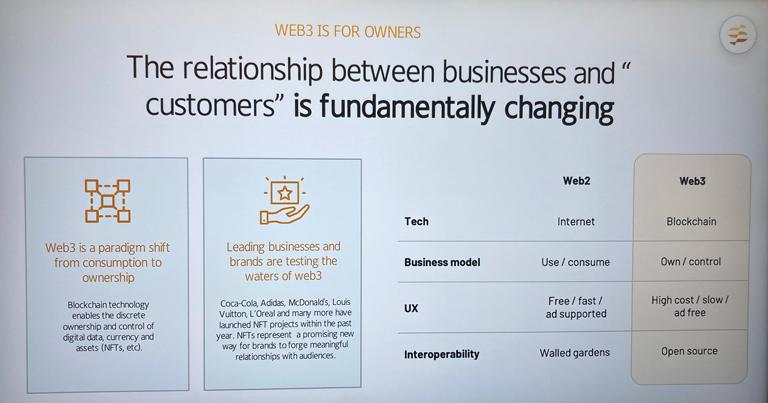 Web3 is fundamentally changing the relationship between businesses and, in the case of airports, the passengers. So, FTE caught up with Sayl, the first owner relationship management platform for Web3 to find out more about the potentials of this technology. Sayl token is the latest addition to Sayl, a customer engagement & commerce platform for large omnichannel businesses. The Sayl platform is today live and already in use by more than 300 brands, including airports such as Brussels Airport and restaurant chains and retailers, who use Sayl for online and in-store ordering, customer data activation, retention & loyalty purposes, identifying their customers in an omnichannel context and serving customers in a more personalised manner. Geert Roete, Co-founder & CEO Sayl, told FTE that while dealing with global brands, Sayl experienced first-hand that for large corporations, interest for the token economy is growing but concrete use cases and tools are still missing. Therefore, the company integrated blockchain and Web3 into its Sayl platform to open unprecedented opportunities for brands. "The platform is designed for marketeers, digital managers, digital teams that want to introduce NFTs to their business to strengthen the relationship between the business and the customers. They can now easily introduce these NFTs in a very seamless way. Within the Sayl platform, they can manage the full life cycle of an NFT without the need to really understand how NFTs, blockchain and crypto really work. Web3 is very often perceived as very technical and only for specific segment of people, but that is not true. We are making NFTs more accessible both for the marketeer and for the consumer." With regards to removing barriers, the Sayl Conn3ct platform introduced support for managing the full lifecycle of an NFT – from creation of the NFT, the minting, the selling of the NFT, distributing the NFT, towards consumers and up to the operational perks one can get for buying the NFT. Among some of the opportunities that the integration of blockchain and NFTs opens up for brands include: the ability to launch marketing campaigns toward an engaged audience; accessing real-time purchase data that consumers provide in campaigns, creation of a direct-to-consumer relationship. In the case of airlines and airports, NFTs can be used to strengthen customer's loyalty at a fraction of the cost of a typical loyalty programme. Roete concluded: "At the end of the day, NFTs is just a tool for better loyalty, better understanding and better identifying the customer."
AI apron turnaround control solution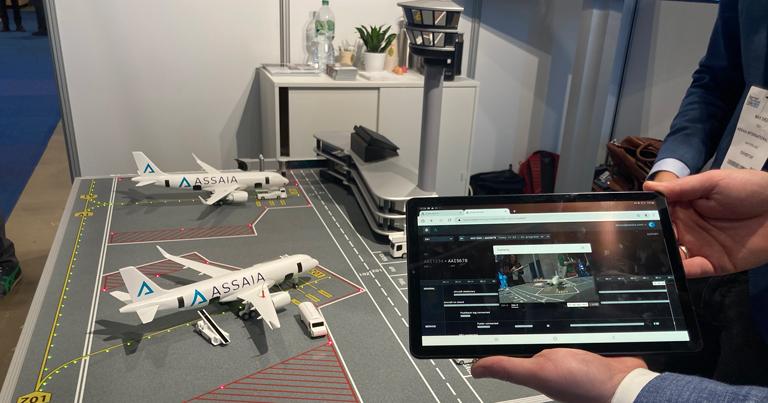 FTE also paid visit to Assaia's booth to find out how the startup is growing its business since it announced its partnership with Gatwick Airport at FTE Global in 2019. We were pleased to see the growing portfolio of customers from the likes of British Airways, Seattle-Tacoma International Airport, Cincinnati/Northern Kentucky International Airport, San Francisco International Airport, American Airlines, LAX, Groupe ADP, Delta, easyJet, LATAM, JFKIAT and many more that have trusted the Zurich-based startup's ApronAI solution. ApronAI uses computer vision to generate insights from video streams and leverages untapped operational data to optimise apron operations in real-time. Assaia's products generate data-driven predictions and help you make better decisions, reduce accidents on the apron, improve sustainability, and increase turnaround efficiency.
Join us at FTE Global in Las Vegas on Sept 6-9 – click here to learn more
Join us at FTE APEX Asia Expo in Singapore on Nov 9-10– click here to learn more
Using data to increase efficiency, reduce cost, improve sustainability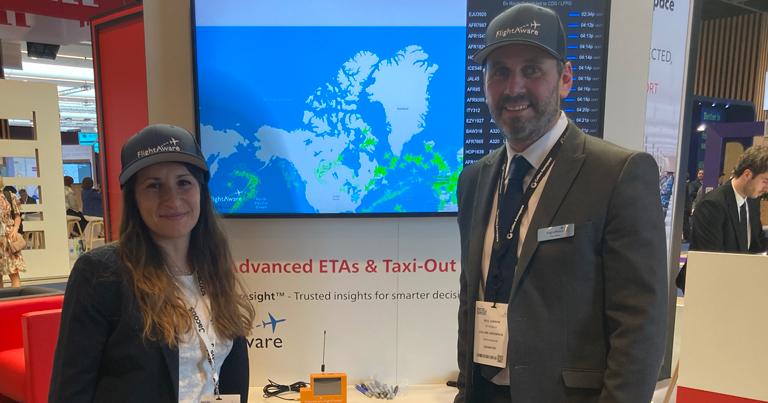 On the Collins stand, FTE was keen to find out more about the company's acquisition of FlightAware, a leading digital aviation company providing global flight tracking solutions, predictive technology, analytics and decision-making tools. FlightAware, is now part of Collins' Connected Aviation Solutions business unit which is exclusively focused on advancing its connected ecosystem solutions. "FlightAware started as a flight tracking company, but we have now positioned ourselves as an aviation insights company, as we have stored every piece of data that we have captured over the years and that allows us to do a lot of analytics, machine learning and generate new data," Paul Gibbson, Vice President Products, FlightAware, told FTE. "It's a unique position that we're in as we have a lot of historical data, we also use live data coming from our network and then we use machine learning to predict the future. The Collins acquisition allows us to expand and accelerate what we do in terms of the impact. It allows us to deliver a lot more in terms of efficiency, sustainably and reliability, combining the best data with the best applications." By centralising aircraft data into one solution, Collins Aerospace intends to increase trust and provide the right information to the right user at the right time. It expects FlightAware to achieve this with more accurate data and clear common visibility. Working with cloud provider Amazon Web Services, Collins Aerospace also argues that this tech is cost-effective as the cloud-based solution doesn't require the maintenance that large amounts of airport-based hardware do in airports' traditional core operations room setup.
Future-proof self-service technology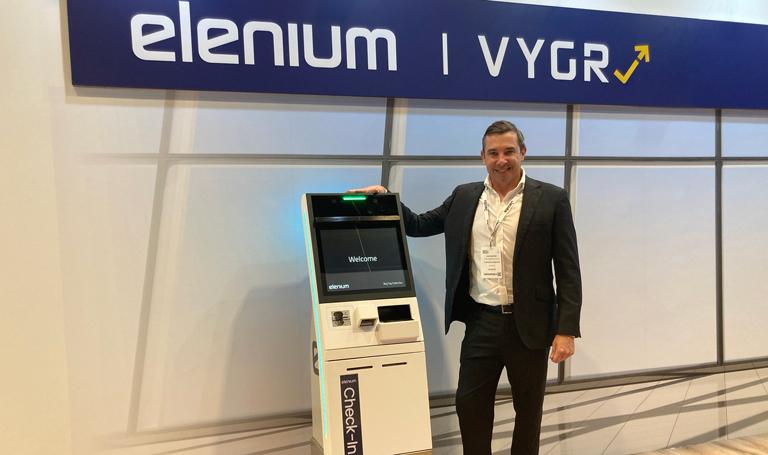 Elenium showcased its streamline passenger experience that uses secure airport-grade biometrics and voice recognition to take the passenger seamlessly from check-in to boarding. VYGR (short for Voyager) is Elenium's suite of innovative self-service solutions that provide a quicker and more convenient experience for travellers. The end-to-end solution moves passengers seamlessly from the very start of their journey to their final destination. Voyager offers a contactless journey powered by secure, airport-grade biometrics. Combining speed and ease of use, Voyager facilitates frictionless travel experiences, giving passengers more time to relax, explore, and enjoy their journey. During FTE's visit to the booth, Rob Bowring, Chief Commercial Officer, Elenium, walked us through VYGR's end-to-end biometrically enabled touchless solutions, including portable Check-in Kiosk, Self Bag Drop and Automated Boarding. "All our equipment is future-ready, equipped with biometrics, touchless technology, voice recognition and computer vision," he said. "Future proofing infrastructure now and getting the right technology is key to making airports and airlines ready for the future." Impressively, in the past six years, Elenium has gone from having a zero self-service installation base to having over 1000 devices implemented in 24 airports globally, with Da Nang International Airport recently announced as the latest customer to adopt Elenium VYGR self-service solution.
State-of-the-art planning platform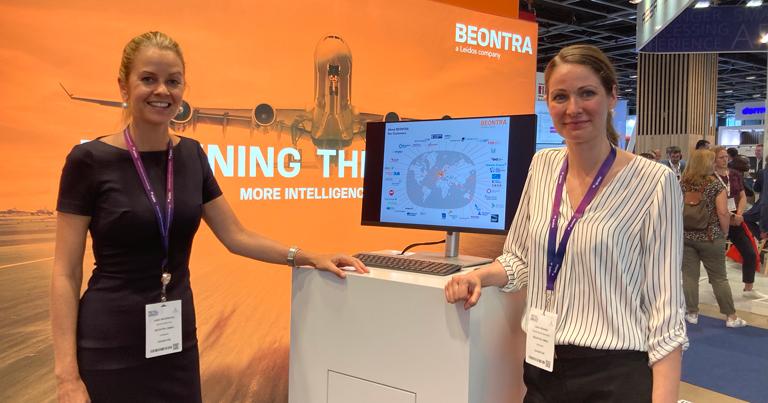 BEONTRA showcased its newly launched BEONTRA Horizons platform. With a user-focused design strategy of "less effort, more intelligence and same flexibility", BEONTRA Horizons adds significant value without compromising on the benefits of the current scenario planning suite. With a modern user interface targeting the individual solution of every user, BEONTRA Horizons builds upon 10+ years of community feedback. Routine tasks are automated and default checks and reports are readily available to focus all time and attention to value generation. Sales Director Jana Skornicka and Senior Sales Manager Lena Renner explained to FTE that fully integrated machine learning algorithms allow for both quicker and more intelligent forecast. Learning from the historical data it identifies patterns and trends to apply on future data. Most importantly, the user remains in full control and has the freedom to change all default settings and outcomes.
Join us at FTE Global in Las Vegas on Sept 6-9 – click here to learn more
Join us at FTE APEX Asia Expo in Singapore on Nov 9-10– click here to learn more
A step closer to a fully self-screening checkpoint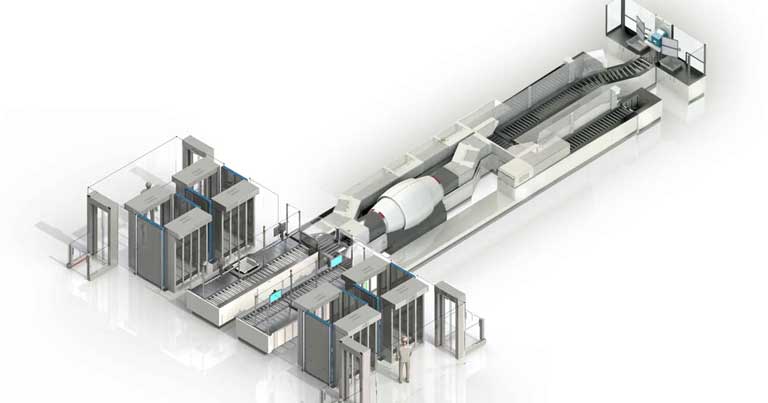 Vanderlande recognises that the digitalisation of airport processes will be key to increasing efficiency and flexibility as the sector gains back the confidence of passengers. The company's mission is to support the industry in these efforts through everything it does – from baggage to passenger handling – moving towards more of an end-to-end optimised journey. Among the most innovative concepts that Vanderlande presented at PTE was the PAX Divest Assistant, created in partnership with Rohde & Schwarz and dormakaba Group. Vanderlande's self-divest solution introduces a self-service function to airport security checkpoints by allowing passengers to move through the divestment process without the help of a local agent. The solution can help reduce passenger and staff interactions while providing travellers with a stress-free journey through the screening process. "While self-screening is still somewhat of a futuristic concept, our self-screening passenger security checkpoint solution for airports was selected by the US Department of Homeland Security (DHS) for further design, development and operational testing," shared Roxane Beauchesne, Senior Marketing Manager, Vanderlande. "This will bring us a step closer to the fully self-screening checkpoint."
Innovative retrofit touchless solution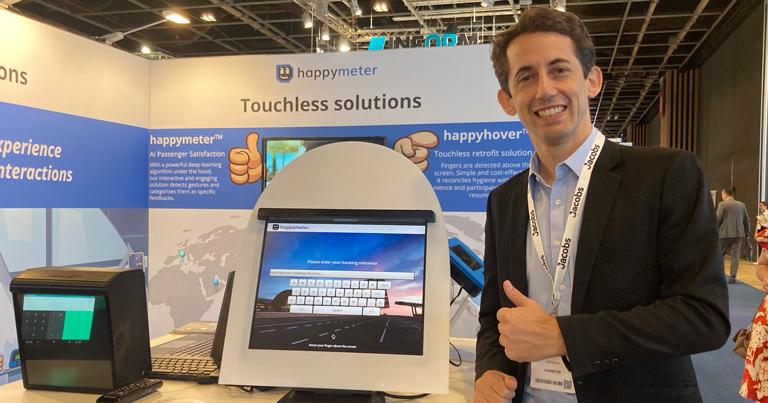 Startup company happymeter presented the happyhover – an innovative retrofit solution that can easily be installed onto existing self check-in kiosks, eliminating the need for a complete equipment overhaul. The happyhover™ bar, when placed above the interactive kiosk screen, uses touch sensor technology to project a shield of invisible infrared light that detects finger movements in mid- air, allowing customers to select, swipe and type without the need to physically touch the screen. Pierre Hausheer, founder of Happymeter, explained to FTE that the solution was created in response to the need for more touchless experiences during the COVID-19 pandemic and was first adopted by Changi Airport. "We are very lucky to work with Changi Airport. Although they are a very large company, they have the ability to act fast and that's what got us on the radar." Indeed, the happyhover has since been adopted by other leading airports from the likes of Hamad and Narita.
Virtual queueing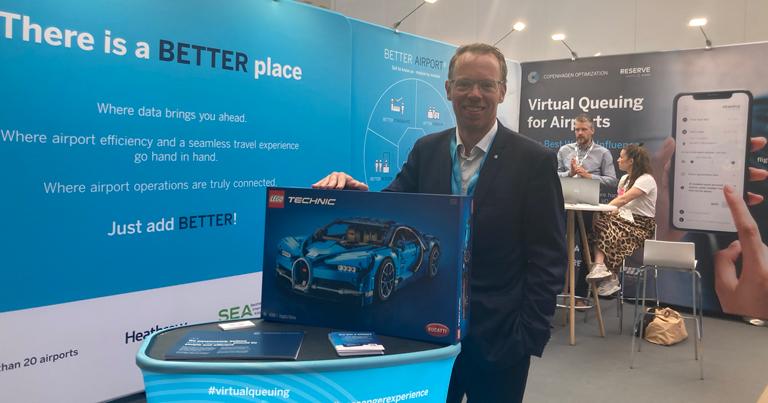 Virtual queuing is becoming an increasingly popular solution for passenger demand management, especially now when travel is picking up. So, FTE stopped by Copenhagen Optimization's booth to find out more about the company's virtual queueing solution, which piloted at Seattle-Tacoma International Airport in May 2021. In short, virtual queuing is the process of managing passenger demand by using technology to create a virtual line or space for passengers. This can be done in a variety of ways, including through the use of an app, by phone, email, website, through a contact centre or SMS. Kasper Hounsgaard, CEO and Co-founder at Copenhagen Optimization, told FTE that the project is a true collaboration effort between Copenhagen Optimization and its partners Clear and Whyline. "Our partners are really good at virtual queueing, while we're really good at airport operations – it's the combination of these two elements that makes this a very strong innovation and showing that it's important to work with partners." The virtual queueing solution has already been adopted by a number of airports, including Seattle-Tacoma, LAX, Newark, Calgary and Phoenix Sky Harbor and the feedback so far has been great with passenger surveys showing that 63% of passengers spend more time shopping, eating and drinking due to the VQ processing, and 96% say they have enjoyed the experience.
Join us at FTE Global in Las Vegas on Sept 6-9 – click here to learn more
Join us at FTE APEX Asia Expo in Singapore on Nov 9-10– click here to learn more
Lost & Found tech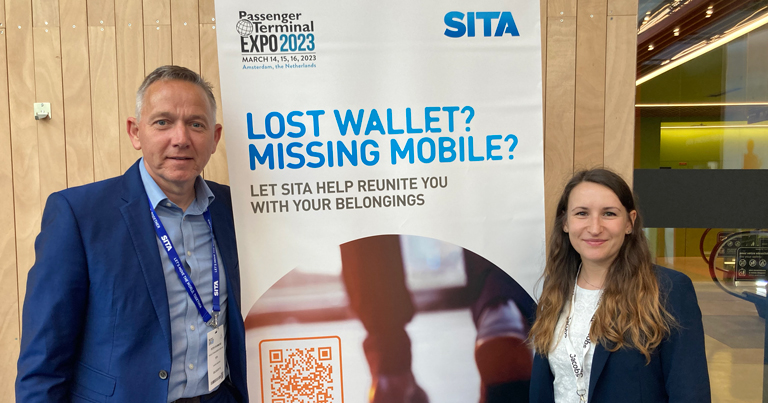 "What we've seen coming out of COVID is that digitalisation in the industry has accelerated, powering digital travel," SITA's Head of Baggage Peter Drummond told FTE. "And what we're seeing now is the significant stress on the air transport industry, as countries are opening back up. Technology will be fundamental for airline and airport operations, while we have passengers demanding more automation and self-service." With this in mind, SITA presented its brand-new solution the WorldTracer® Lost and Found Property – an ATI-specific, cloud-based application that solves the lost property problem on a global scale. Using cutting edge technology, it helps airlines handle lost and found items more accurately, reuniting passengers with their lost property and ensuring GDPR compliance. With the Lost & Found Property Service, passengers can make a report on their phone, register that with their airline and when the item is found, all they need to do is take a photograph of the item. Using computer vision and machine learning, SITA's software then identifies the type of item that is lost and facilities the matching of the item.