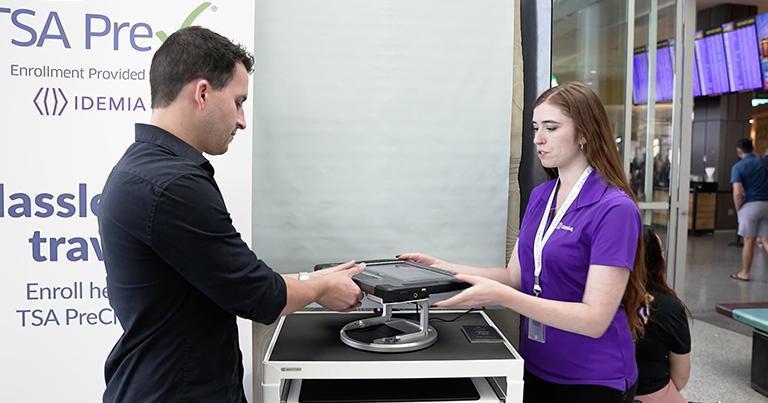 A new onsite TSA PreCheck enrolment initiative, provided by IDEMIA, has gone live at Austin-Bergstrom International Airport. Enrolment is said to take five minutes or less and travellers don't need an appointment. Passengers will receive their Known Traveller Number, for use on subsequent trips, within three to five days of enrolment.
"We are thrilled to be among the latest airports to introduce this new TSA Precheck enrolment initiative," said Jacqueline Yaft, CEO, Austin-Bergstrom International Airport, who will deliver a keynote address as part of the FTE Airports 2030 Symposium, taking place during FTE Global 2022 (6-9 September, Las Vegas). "As our airport welcomes more travellers this year than ever in our history, increasing access to TSA PreCheck gives travellers more options for an easier experience. We have been working hard with our TSA partners to improve passenger processing and look forward to our continued partnership and shared goal of delivering an excellent airport journey."
IDEMIA TSA PreCheck Enrolment Ambassadors are stationed just past airport security checkpoints in easy-to-spot uniforms, with specially-equipped carts for enrolling passengers.
"Onsite TSA PreCheck enrolment delivers a new level of convenience to travellers right at the airport," said Donnie Scott, CEO IDEMIA I&S North America. "IDEMIA is a leader in identity verification and validation technologies, and we are constantly innovating new ways to streamline TSA PreCheck enrolment. This service has proven popular with travellers at the airports where we have deployed this new option and now those through Austin can take advantage of this new convenient service."
TSA PreCheck has an $85 enrolment application fee, which covers five years of participation, if approved.
"The easier we make it for travellers to enrol in TSA PreCheck, the more people can take advantage of the great benefits the programme has to offer," commented Gilbert Almaraz, TSA Federal Security Director, Texas. "This June, we saw 94% of TSA PreCheck passengers wait less than five minutes in security checkpoint lines and they avoid having to take off their shoes and belts and can leave their compliant liquids and laptops in their bags. This effort has helped us deliver the benefits of TSA PreCheck to more and more travellers each day, giving them a premium checkpoint experience."