New computed tomography (CT) technology and an innovative security lane configuration are streamlining the security process for passengers at Frankfurt Airport.
The CT scanners mean travellers will no longer need to remove laptops and liquids from hand luggage, while also reducing the number of secondary checks needed and ultimately leading to shorter wait times. In the long-term, Fraport plans to deploy the new equipment across all checkpoints.
Since 1 January 2023, Fraport has assumed responsibility for the organisation, management, and performance of the security checkpoints at Frankfurt Airport. The German Federal Police, who were previously tasked with these responsibilities, will continue to hold statutory oversight and supervision roles, as well as overall responsibility for aviation security. They will also continue to provide armed protection at checkpoints, certification and approval of new checkpoint infrastructure, and handle the certification and recertification process for aviation security personnel.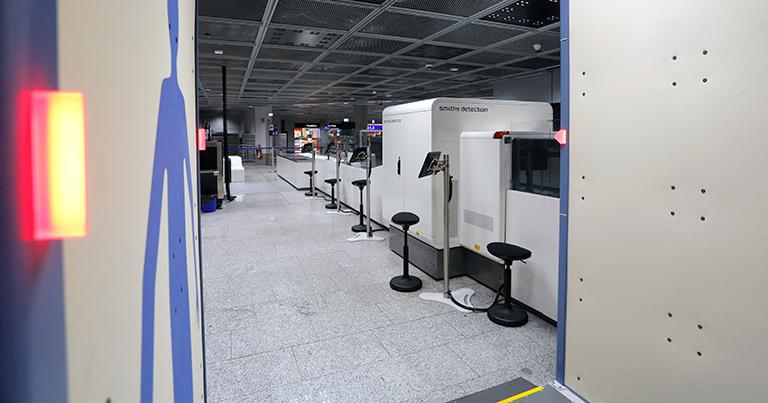 Three service providers have been commissioned to conduct passenger screening on behalf of Fraport from 1 January 2023: FraSec Aviation Security GmbH (FraSec), I-SEC Deutsche Luftsicherheit SE & Co. KG (I-Sec), and Securitas Aviation Service GmbH & Co. KG (Securitas). In addition, state-of-the-art CT scanners from Smiths Detection have been deployed at six selected aviation security lanes. The German Federal Police tested the reliability of the CT technology during a trial in September 2022.
Meanwhile, a new security lane design from Vanderlande, known as 'MX2', is providing further security efficiencies. The innovative concept, which uses a CT scanner from Leidos, enables passengers to place their hand luggage on both sides of the scanner and retrieve it in the same way. A trial operation got underway in Terminal 1's Concourse A in January 2023.
"I'm pleased that Fraport – as the operator of Frankfurt Airport – is now able to assume more responsibility for security checks," said Dr. Stefan Schulte, CEO, Fraport. "This will allow us to bring our experience and skills into the operational management of aviation security. By deploying new technology and innovative lane designs at Germany's largest aviation gateway, we can provide our customers and passengers with greater convenience and shorter wait times, while maintaining our high security standards. Over the past few months, our team worked towards this starting date quickly and with a high level of commitment. The transition ran smoothly from the outset, thanks to our partnership with the security service providers FraSec, I-Sec, and Securitas. I offer my sincere thanks to everyone who was involved."