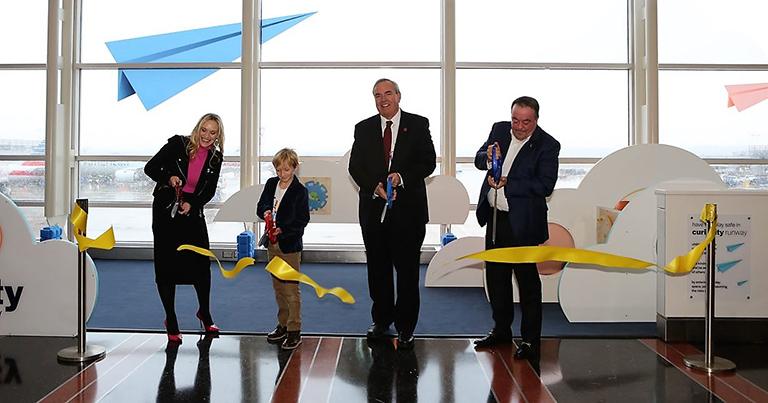 Metropolitan Washington Airports Authority has partnered with the National Children's Museum and Boeing to develop "a fun and educational space for travelling families" at Reagan National Airport.
Named 'Curiosity Runway', the new children's play area aims to pique their pre-flight imagination. It is located just after the airport's North Security Checkpoint between the C and D Gates, providing families with a dedicated, comfortable area where young children can safely play, learn, and explore. Caregivers have access to seating and charging stations along the exterior of the play area.
"As more families visit our airports, we need to make sure we're making their experience a good one," said Jack Potter, President and CEO, Metropolitan Washington Airports Authority. "That's why we're delighted to have a new playspace dedicated just for them at Reagan National Airport. Curiosity Runway gives children a place to play, which could also lead to more comfortable travel experiences for all passengers."
Experiences in Curiosity Runway include:
Paper Airplane Climber: Children will use multi-level platforms to climb to new heights in a whimsical structure modelled after a paper airplane. Along the way, imaginative play elements – like a pint-sized cockpit – help young travellers tap into their creative potential.
Jetsetter Slide: After reaching the top of the Paper Airplane Climber, explorers will start their descent via the twisty Jetsetter Slide for a thrilling ride back to Earth.
Cruising Altitude Cloud Crawler: Curiosity Runway's youngest visitors will crawl and toddle through an active, cloud-inspired play structure that encourages gross motor skill building. Multicoloured windows add an additional layer of sensory exploration.
'I Spy' Observation Deck: To develop a deeper understanding of planes at the Observation Deck, signage prompts children to search the tarmac for airport equipment and planes, including the Boeing 737 MAX.
"All of us at Boeing are committed to preparing and inspiring the next generation to become innovators and explorers of the future," said Ziad Ojakli, Executive Vice President of Government Operations, The Boeing Company. "Through our unique partnership with National Children's Museum and Metropolitan Washington Airports Authority, we are bringing impactful and engaging STEAM (science, technology, engineering, arts, and maths) education experiences to children. STEAM investments that support hands-on-learning engagements like Curiosity Runway are key to sparking an early interest in STEAM and inspiring students to pursue their future in aerospace."