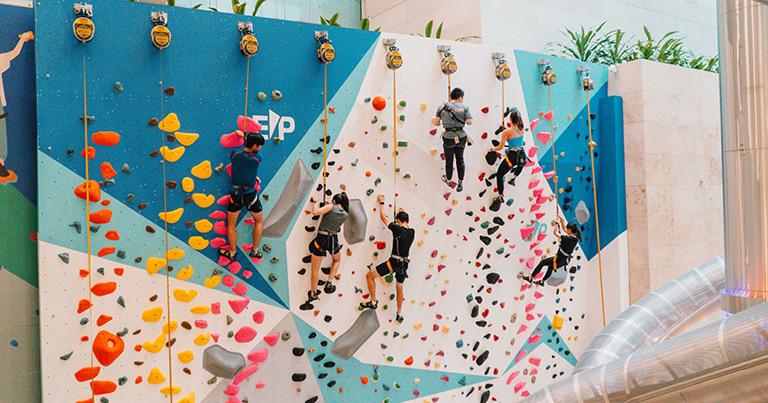 A new eight-metre-high climbing wall will open in Singapore Changi Airport's Terminal 3 on 4 March 2023, as part of its "continuous effort to enhance the experience for passengers and visitors".
"At Changi Airport, we're constantly looking for ways to delight our visitors and inject excitement into our offerings," said Phau Hui Hoon, General Manager of Landside Concessions, Changi Airport Group. "Climb@T3 is the latest addition to Changi Airport's suite of leisure and entertainment offerings and will offer a fun and challenging experience to our passengers and visitors. We hope both new and experienced climbers will enjoy scaling new heights with us."
Climb@T3, managed by The Rock School Singapore, will be located at Terminal 3 Basement 3. In addition to the rock-climbing wall, it will also feature a 12-metre-long boulder wall. The family-friendly facility will have both guided and free-and-easy programmes for climbers of varying skill levels, from as young as two years of age to adult enthusiasts.
"The Rock School is excited to partner Changi Airport Group in this initiative because we believe that with our 15 years of experience, Climb@T3, as a family-friendly facility, will be able to add to Changi Airport's value-proposition of being a world-class icon and destination in itself," said Chong Zedong, Managing Director, The Rock School.
The climbing wall's nine lanes are each equipped with state-of-the-art auto belay systems, which allow families and friends to climb together even if they do not know how to belay. Climbers can challenge themselves with over 20 different climbing routes to pick from. This will, in time, increase to about 30 routes, with each ranging in difficulty from beginner to intermediate levels.
Meanwhile, the 12-metre-long, 2.5-metre-high boulder wall is open for use by all climbers but built primarily for younger and budding climbers to hone their skills and build their confidence before they move on to the high wall.