Fraport and Lufthansa strengthened their systemic partnership last October by forming the 'FraAlliance' joint venture, in which each company holds a 50% share. The aim is to enhance strategic and operational cooperation between Frankfurt Airport (FRA) and its hub carrier, with a firm focus on "delivering significant added value for customers by implementing innovative, future-focused measures". Results so far clearly highlight the benefits of airline-airport collaboration in transforming the passenger experience, as Dirk Schusdziara and Jörg Harnisch, Managing Directors, FraAlliance, share in this interview.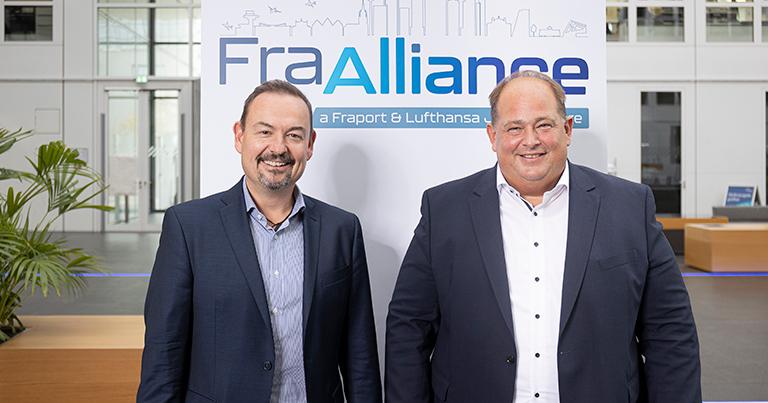 "End-to-end journey enhancement for passengers"
The joint venture is co-led by Dirk Schusdziara (previously SVP Commercial Affairs at Fraport AG's Airside and Terminal Management, Corporate Safety and Security central unit) and Jörg Harnisch (previously Head of Lean Project Management & CoE Process Improvement at the Lufthansa Group).
"The main target is to develop a joint understanding of passenger needs to enhance the service quality and thus increase customer satisfaction," Schusdziara explains. "The joint venture also aims to design and implement new products and services for passengers at the FRA global hub."
Indeed, this collaboration between airport operator and airline is crucial in terms of optimising operations and enhancing the passenger experience. "Passengers typically don't differentiate who is responsible for which touchpoint along their journey," says Harnisch. "Therefore, it is vital to create a holistic view of passenger requirements in order to enhance relevant processes and thus the overall travel experience. The FraAlliance joint venture seeks to improve aspects relating to business development and operations, customer experience, infrastructure, intermodal services, and sustainability. These improvements can be achieved by analysing and optimising processes in terminal operations, and by taking a joint customer-focused approach when developing new products and services. The goal is to realise an end-to-end-journey enhancement for passengers, while boosting the competitiveness of the airport."
Lab Gate: a versatile and customisable testing space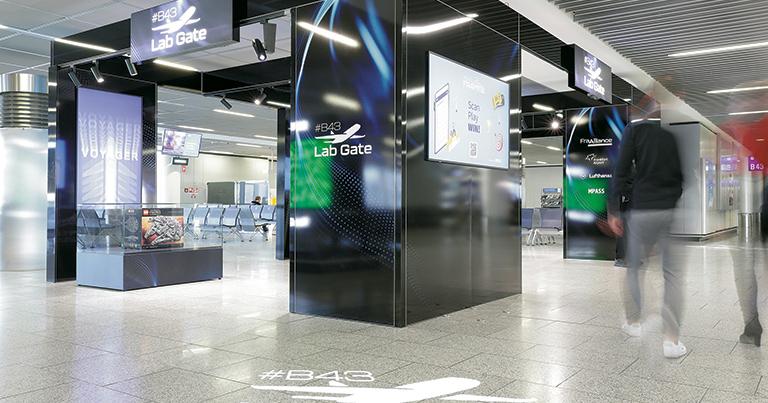 One example of the projects FraAlliance is currently working on is the new MX2 security-lane design developed by Vanderlande in cooperation with FraAlliance. This innovative concept, which allows passengers to place their hand luggage on two sides of the screening equipment, is now in use for the first time worldwide at Frankfurt Airport. "With this concept, we want to optimally integrate the use of CT scanners into security processes tailored to passenger and staff needs," Schusdziara comments. "We are implementing this new technology at one of the world's largest air traffic hubs as part of our commitment to offer passengers the best possible airport experience."
FraAlliance has also created a multifunctional space at Frankfurt Airport's departure gate B43, dubbed 'Lab Gate'. "The Lab Gate functions as a versatile and customisable space for testing innovative and surprising service ideas," Schusdziara explains. "The first use case 'FRAwards #B43' has just been launched and allows customers to collect points by playing minigames. The points can then be redeemed for vouchers at participating airport stores, such as CAPI electronics, or on the Fraport online platform."
Another FraAlliance initiative having a material benefit for passengers was launched last year, when the indication of real-time wait times at FRA's security checkpoints was integrated into the Lufthansa App. "Furthermore, FraAlliance continuously and carefully analyses and optimises passenger flows at FRA in order to increase transparency for customers about the time needed from curbside to gate," Schusdziara adds.
In 2023, FraAlliance will focus on further improving the overall passenger journey at FRA. Harnisch explains that planned measures include optimisation of the boarding process, the creation of new, state-of-the-art food & beverage options, and investments into making intermodal travel more reliable and attractive for customers. "By analysing future needs and trends becoming relevant for the airport, FraAlliance will lay the foundation for making FRA an ever more attractive gateway for passengers."