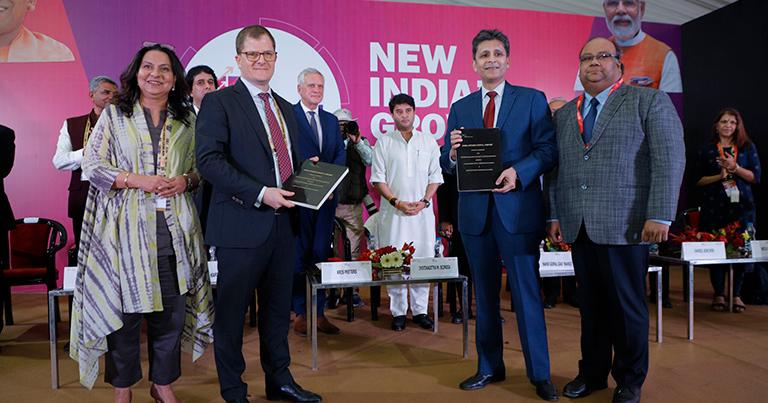 Noida International Airport has signed an agreement for Smiths Detection to supply both passenger and hold baggage screening equipment "to help ensure safety and efficiency for passengers and operators".
"Ensuring the safe passage of people and our operations is of utmost importance to us," said Christoph Schnellmann, Chief Executive Officer, Noida International Airport. "Smiths Detection have a global reputation for the best technology, and we look forward building a relationship to help ensure a smooth passenger experience and safety for all."
Zurich Airport International AG won the bid to develop Noida International Airport in 2019, and construction activities are well underway. At its opening at the end of 2024, the airport will feature one runway and one terminal, providing capacity for 12 million passengers – with the potential for further growth in additional development phases.
Smiths Detection will supply the HI-SCAN 6040 DV, an advanced high resolution, dual-view X-ray screening system that will be used to screen passenger carry-on baggage; the HI-SCAN 10080 XCT, a next-generation high-speed computed tomography (CT) explosives detection system that complies with TSA and ECAC regulations and BCAS standards; the iLane A20, a newly-launched next-generation automatic tray return system which delivers a steady flow of trays, removing bottlenecks and providing a seamless checkpoint journey; and the IONSCAN 600, a portable explosives and narcotics trace detector; as well as multiple additional X-ray screening systems to screen oversized goods.
"Noida International Airport is set to become a major hub for India, both for travellers to and from the country, as well as for air cargo and logistics," said Vikrant Trilokekar, Managing Director of India, Smiths Detection. "We're delighted to be providing our world-leading technology to help them achieve their safety and operational efficiency goals."
Smiths Detection will also provide round-the-clock fully comprehensive equipment service and maintenance for 10 years. Installation of the equipment will begin in early 2024.