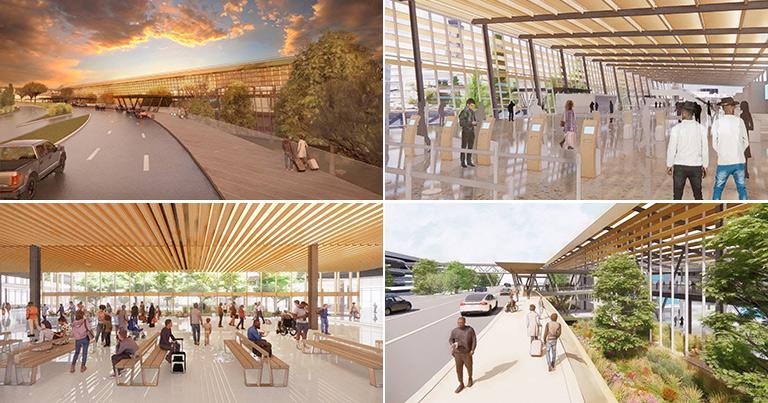 San Antonio International Airport has unveiled preliminary designs for its new terminal. The Terminal Development Program will "reimagine the passenger experience – creating a sense of place for everyone arriving in San Antonio". It is on schedule for completion in mid-2028.
"If all goes to plan, we'll put shovels in the ground around this time next year," said Jesus Saenz, Director of Airports, San Antonio Airport System. "When people step off a plane at San Antonio International Airport, there will be no question where they've arrived. The thoughtful way nature is being incorporated into the design will make them feel welcomed. And their experience getting through the airport will be even easier than it is now. We are elated to be at this milestone as we make critical decisions regarding the design, the layout and the ease of access that will impact millions of travellers as San Antonio continues to grow."
The San Antonio Airport System (SAAS) has been working with architecture and design firm Corgan and its project partners, which include the local Lake Flato Architects and airport/transportation planners from Kimley-Horn as the project transitions into the design phase. At 15% designed, the preliminary plan includes:
Up to a 17-gate expansion, six of which will be able to accommodate both domestic and wide-body international flights.
More than 850,000 sq ft of new terminal space, which will make the new terminal larger than Terminals A and B combined.
Outdoor courtyards within the new terminal that offer an opportunity to showcase San Antonio's 250+ days of sunshine per year.
Approximately 41,000 sq ft of new concessions space (in addition to the existing 24,000 sq ft).
More than 29,000 sq ft of available club lounge space.
Larger seating areas at each gate, equipped with the latest technology.
A modern Federal Inspections Service area, which will allow the airport to expand international air service.
Roadway improvements to increase traffic flow and remove congestion along a curb front that will nearly double in length.