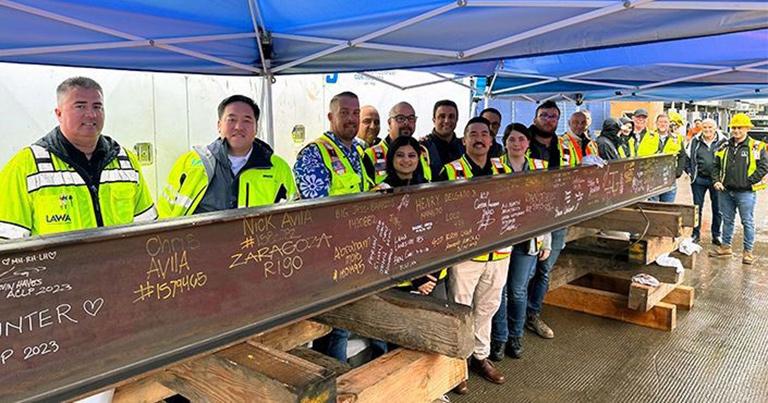 Los Angeles World Airports, host of FTE Global on 19-21 September 2023, has celebrated the topping out of the Tom Bradley International Terminal Core at Los Angeles International Airport (LAX). A special ceremony and beam honoured the workers realising the transformative project.
The Tom Bradley International Terminal Core is one of seven new cores that make up the $490 million Terminal Cores project at LAX. The project, which is scheduled to complete in 2024, will allow access to all levels of the terminal buildings using escalators and stairs, and provide passengers direct connection to the future People Mover train system and its connection to the city's greater public transportation network.
"The topping out of LAX's Tom Bradley International Terminal Core represents an important moment for one of the airport's most ambitious and anticipated initiatives to date – creating a sustainable and interconnected network for getting to and from the airport that has the added benefit of alleviating congestion and passenger wait times," said Justin Erbacci, Chief Executive Officer, Los Angeles World Airports (LAWA). "We thank our architecture and construction partners, Austin Commercial, LP, and the community of local workers whose efforts are helping to achieve our vision."
The Tom Bradley International Terminal Core is a three-level structure that will provide direct connectivity to the West Central Terminal Area station and is oriented for easy travel, with elevators and escalators connecting departures, arrivals, the People Mover and office spaces. Upon entering the three-storey open atrium full of natural light, passengers will have an elevated view of the ticketing level that orientates them to their surroundings and provides wayfinding, flight information and vertical conveyance. Passengers who need to check-in at the Tom Bradley ticket counters will utilise the vertical circulation of the core to reach the ticket counters and use the self-service bag drops.