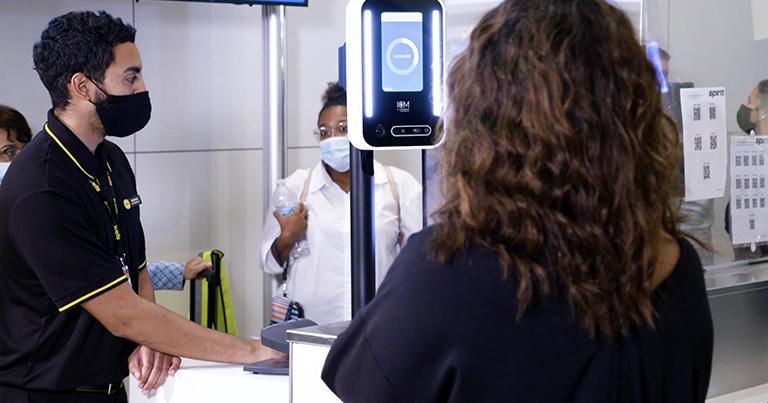 Sacramento International Airport has implemented biometric boarding for international flights at select gates, using Amadeus facial recognition technology.
"We are thrilled to join the ranks of other leading airports in implementing biometric technology," said Cindy Nichol, Director of Sacramento County Department of Airports. "This technology will save time and reduce stress for our travellers, and will provide a secure, touchless departure process for identity verification. The deployment of Amadeus Facial Biometrics technology is just one of the many ways we are working to make your travel experience as smooth and convenient as possible."
The state-of-the-art biometrics verify traveller identities by comparing live photos to the passenger's existing passport or visa photo in secure U.S. Department of Homeland Security systems. This enhances safety and security, while making the screening process more efficient, and is part of the airport's ongoing commitment to implementing innovative solutions that make travelling easier and more convenient for passengers.
Travellers who wish to opt out of the new biometric process may notify an airline official or a U.S. Customs and Border Protection officer as they approach the departure gate. These travellers will be required to present a valid travel document for inspection by the gate agent and they will be processed consistent with existing requirements for departure from the United States.
"Sacramento joins other leading airports in the US that are harnessing the unique qualities of facial biometric verification to enhance the passenger experience," said Betros Wakim, SVP Airport & Airline Operations Americas, Amadeus. "At Amadeus we are working with a growing number of airports and airlines to build biometric identity technology into different stages of the airport experience, from check-in to bag drop and also boarding. Where possible, we advocate for a cloud approach so different airlines can be easily integrated with an airport's biometric infrastructure. Biometrics is poised to be one of the defining aviation trends of 2023."
To ensure seamless implementation, the airport's management are working closely with U.S. Customs and Border Protection under the U.S. Department of Homeland Security, as well as airline partners. Deployment of biometric screening will be completed in phases, with the first set of four gates already operational, and the remaining gates to be installed in the future.