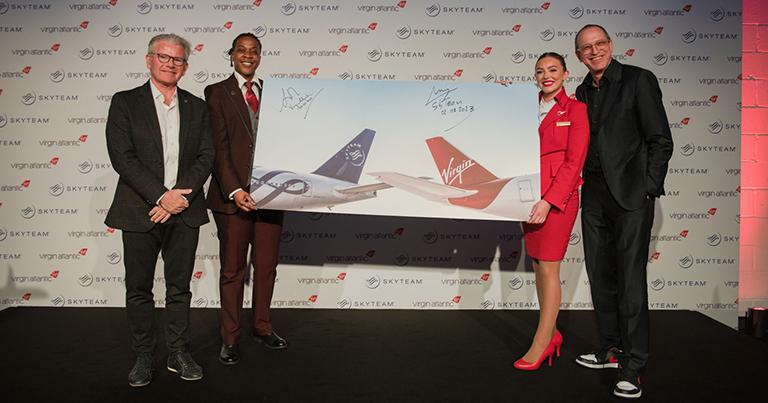 Virgin Atlantic has formally joined SkyTeam, becoming the alliance's first UK member airline and enhancing its transatlantic network, while providing "a consistent, seamless customer experience" across 1,000 destinations in over 170 countries.
Travellers can book every SkyTeam member flight on a single ticket, checking in with baggage just once through to their final destination.
"SkyTeam shares a customer-first ethos that mirrors our own and our entry into the alliance today marks an important milestone in achieving our vision to become the most-loved travel company," said Shai Weiss, CEO, Virgin Atlantic. "We want to reward those who choose to fly with Virgin Atlantic and our Flying Club members deserve the very best loyalty proposition. Our SkyTeam membership offers this through a global network of maximised reward opportunities, alongside enhanced services on the ground and in the skies."
The airline's Flying Club members will receive a host of benefits to enhance their journeys across the SkyTeam network. Virgin Atlantic Silver Card holders are recognised as SkyTeam Elite Members, while the airline's Gold Card members have become Elite Plus. SkyTeam Elite Plus, First and Business Class customers enjoy SkyPriority services, including priority check-in, baggage handling and boarding. Extra baggage allowance is offered to both Elite and Elite Plus members.
Virgin Atlantic's entry into the alliance builds upon the success of its transatlantic joint venture with Delta and Air France-KLM, each already long-established SkyTeam members. Virgin Atlantic is co-located at London Heathrow's Terminal 3, alongside Delta and existing SkyTeam members Aeromexico and China Eastern, providing passengers with smooth airside transits and convenient connection times.
"We are delighted to welcome Virgin Atlantic into SkyTeam, taking an already close relationship to new heights and elevating our customer offering with more routes to exciting destinations and access to aspirational airport lounges – not to mention the airline's world-famous flair," said Patrick Roux, CEO and Managing Director, SkyTeam. "The UK is a key market for SkyTeam and with Virgin Atlantic onboard, customers can look forward to more opportunities to earn and redeem miles as they fly, enjoying the iconic travel experience that makes our newest member a globally loved airline."
Codeshare agreements are already in place with Aeromexico and Middle East Airlines, in addition to existing codeshares with Air France-KLM and Delta, with options for more codeshares to follow later this year. Interline agreements with all SkyTeam members are already in place, providing one touchpoint for all customers, creating a seamless journey on one ticket.