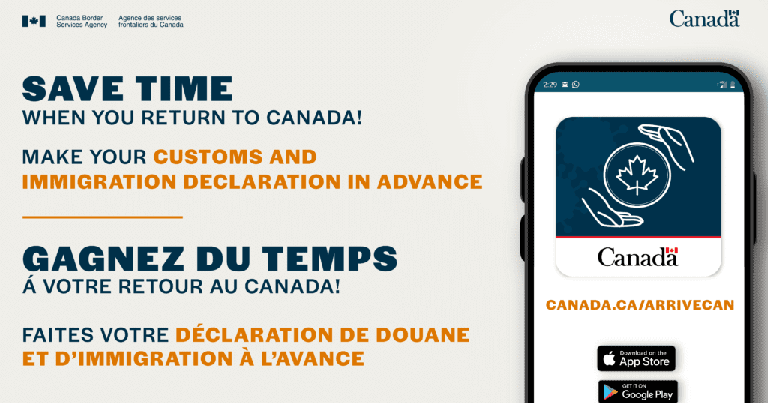 The Canada Border Services Agency (CBSA) is exploring safe, secure and innovative ways to deliver a better and faster border experience for travellers entering Canada.
As part of this, Advance Declaration is available to all travellers arriving on international flights at Edmonton International Airport. Express lanes are also available in the customs areas for travellers who complete their Advance Declaration to skip line-ups for Primary Inspection Kiosks.
Advance Declaration provides travellers with the option to submit their customs and immigration declaration up to 72 hours in advance of their arrival in Canada.
"CBSA has the integral role of providing border control, immigration and customs services at Edmonton International Airport," said Steve Maybee, VP, Operations, Infrastructure and Corporate Communications, Edmonton International Airport. "While safety and security are always our top priorities, we aim to deliver an efficient and positive experience for our travellers' journey throughout the airport, including navigating their border crossing. We welcome CBSA's Advance Declaration and are certain our passengers will be pleased to experience a better and faster border experience at YEG."
Advance Declaration is part of CBSA's Traveller Modernisation initiative, which is being implemented over the coming years. Modernising the travel experience includes the use of digital technologies and tools for both travellers and border services officers.
"With Advance Declaration and express lanes now available at Edmonton International Airport, travellers can enjoy a faster border experience," said Brad Wozny, Regional Director General, Prairie Region, CBSA. "This is one example of how we are modernising Canada's borders, and we're happy to work with partners, like the Edmonton Airport Authority, to make this digital option available to travellers."