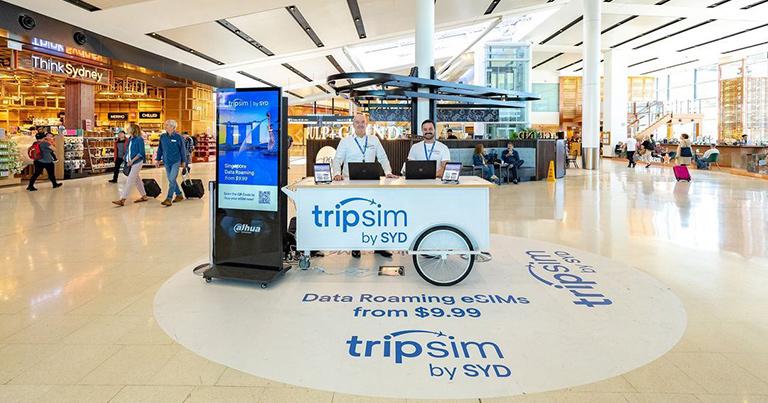 Sydney Airport has launched tripsim, a brand-new travel companion to help travellers stay connected while overseas. Tripsim offers affordable data bundles for over 150 countries without the need to swap out a physical SIM card or change phone numbers.
"We are always looking for ways to support our passengers in the terminals, but this is the first time we have offered a product to enhance their entire holiday experience," Mark Zaouk, Executive General Manager of Commercial, Sydney Airport. "Every year millions of Australians fly out of our T1 international terminal and we're proud to deliver a new affordable product to help them stay connected while travelling overseas."
Sign-up and installation takes just minutes and data plans are available for passengers departing Australia for use across multiple countries. For example, the European bundle covers 35 countries including the United Kingdom, and the Asia bundle works in 14 countries including Indonesia, Singapore, Thailand and New Zealand.
"International data roaming can be expensive, and our research shows many people search online for low-cost alternatives, which is why we've launched tripsim," said Michael Brown, Head of Commercial Analytics, Sydney Airport. "It's simple to install and offers an economical way for Australians to use their devices while overseas without the hassle of switching out SIM cards and phone numbers. Travellers can choose from tripsim data bundles that collectively cover more than 150 countries. Whether you're headed to popular holiday destinations like New Zealand, Bali, Europe, the U.S. or planning an intrepid journey around the globe, there's a data bundle to suit. You can compare plans on our easy-to-use website by simply typing in where you plan to travel and on what dates. Tripsim is not just available for passengers flying through Sydney Airport, Aussies headed overseas from any city can sign-up online. When you arrive home from an amazing overseas holiday and get slugged with an eyewatering roaming bill, it can quickly dull your post-holiday glow, especially for families travelling with multiple devices. Tripsim is an innovative and cost-effective alternative, and we hope it'll shake-up the way Australians roam while overseas."