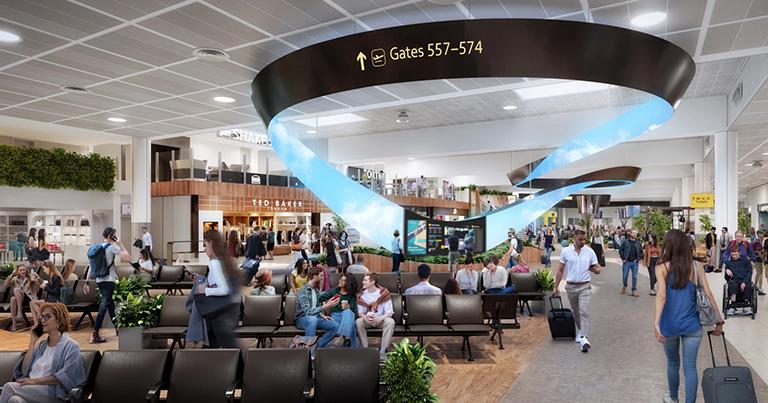 London Gatwick Airport has launched the biggest-ever transformation of its North Terminal. The project is scheduled to be completed in early 2024 and will see more than £10 million invested in a multitude of improvements. Passengers will be provided with a more personalised experience – linked to the airport's new branding and vision.
The modernised departure lounge will feature new flooring and contemporary seating. All seats will have accessible power points, located in differentiated 'mood zones', allowing passengers to spend their pre-flight time how they choose, whether relaxing, working or shopping.
Improved sightlines and wayfinding, including a new orientation zone with unique digital artwork and content, will make it easier for passengers to experience everything the departure lounge has to offer.
"The redevelopment of our North Terminal is aligned with our refreshed brand and vision," said Rachel Bulford, Retail Director, London Gatwick. "The new features and layout will make the space easier for our passengers to find their way around and ensure they have a more enjoyable and efficient journey through the departure lounge. The varied seating areas, charging points and pleasant environment will also give passengers the freedom to spend more time doing what they want, whether they're looking for a space to relax before their flight, do some shopping, sit down for a meal, or send some last-minute emails. It's important that we create a unique sense of place for our passengers, not only through our retail and restaurant provision, but also the look and feel of the departure lounge. We want to recognise Gatwick's location as a London airport, while also celebrating being in the heart of the South East and all the fantastic things the region has to offer."
The redevelopment is part of a wider multi-million-pound development programme, which includes investment in the train station, modernisation and expansion across the airport, and the airport's new branding and vision, which was launched in April.