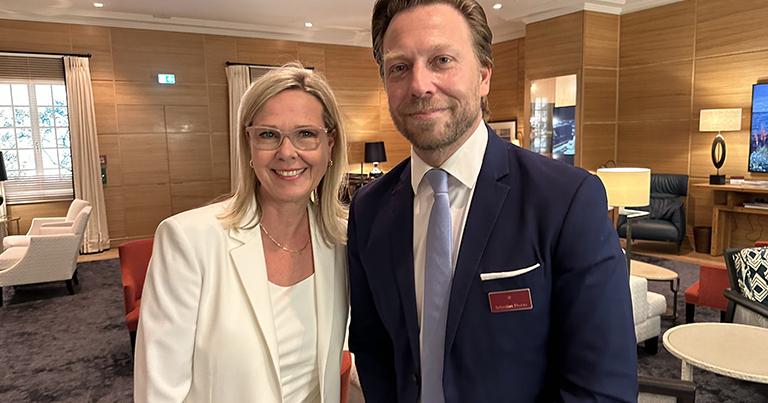 Frankfurt Airport's VIP Services has opened a new VIP Terminal located in arrivals area A of Terminal 1. The 1,700sqm two-level facility complements existing VIP facilities in passenger area B, which will now be used primarily as a transit lounge for connecting passengers.
"Our VIP Services unit can look back at more than 50 years of tradition and an approach which has always been holistic in nature," said Anke Giesen, Executive Director Retail and Real Estate, Fraport AG. "Nevertheless, we're always looking to refresh our offerings and introduce innovative touches to delight our sophisticated customers with a unique blend of exclusivity and feel-good ambiance. The new VIP Terminal allows us to once again offer our passengers a new, luxurious travel experience that still upholds the tradition of our internationally-acclaimed, top-quality product."
The project harnesses existing building space, with Fraport transforming areas that were previously used by airlines. The VIP Terminal can host up to 100 guests for exclusive events, even if the invited guests have not booked flights.
Inside, the VIP Terminal has two generous spaces for common use: The Global Lounge features a bar, while the library is designed to provide an elevated sense of calm.
Away from the common spaces, the VIP Terminal has three private suites, along with two conference rooms for delegations and business meetings. For recreation, a gaming lounge with a flipper and arcade machines is available. A cigar lounge features a fine selection of cigars. There is even a dedicated Greeters' Suite for welcoming guests, while drivers can relax in the Chauffeurs' Area.
VIP support at Frankfurt Airport is bookable regardless of airline and flight booking class. Prices for individual travellers start at €430, with additional passengers in the same party paying €240 each.