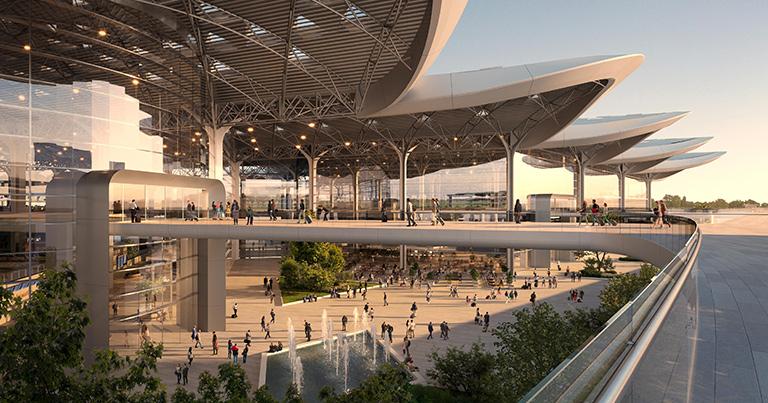 Centralny Port Komunikacyjny (CPK) has unveiled the concept design for Poland's new CPK Airport, illustrating the terminal, main railway station and public transport interchange. CPK's approval of the airport's concept design, prepared by Foster + Partners and Buro Happold, means the project moves on to the construction stage.
"Today we are presenting the architectural concept of the terminal for the first time," said Mikołaj Wild, CEO of CPK. "We are demonstrating how we are going to ensure passenger comfort and how we combine different modes of transport in one place. As of today, we know what the terminal, the heart of CPK and the aviation gateway to the world, is going to look like. For those arriving, this will be the first experience of our country. We are also unveiling the first railway station so closely integrated with an airport."
The centrepiece of the multimodal interchange is an atrium, seamlessly connecting the airport terminal, railway station, and other modes of transport under a singular, unifying canopy. The atrium is the "foreground of the airport", the link between the terminal and the railway station – an accessible space where all passengers meet, regardless of which mode of transport they are using.
"Our design for CPK is centred on the passenger," said Grant Booker, Head of Studio, Foster + Partners. "The ambition is to create an accessible, calm and legible building that enhances the experience of travel. The terminal's minimal level changes and generous structural spans create clear lines of sight – from landside to airside – making it extremely easy to navigate. The vaulted roof fills the space with light and leads passengers through the building, guiding them towards their destinations. Bringing together three modes of transport in one place – and integrating a new railway station that is part of a national high-speed rail system – we believe that CPK will completely transform the way people travel across Poland and become a powerful new gateway to Europe and the rest of the world."
In addition to conventional check-in desks, the terminal will be equipped with self-service check-in stations, a self-bag drop and kiosks with biometric capabilities. Both security and document control will be fully automated with CT scanners and automated gates.
The first phase of the airport – two parallel runways and infrastructure to handle 40 million passengers – is expected to be operational in 2028. The CPK General Plan assumes that the airport will be expanded in a modular manner afterwards. According to IATA forecasts, the airport could handle up to 65 million passengers in 2060.