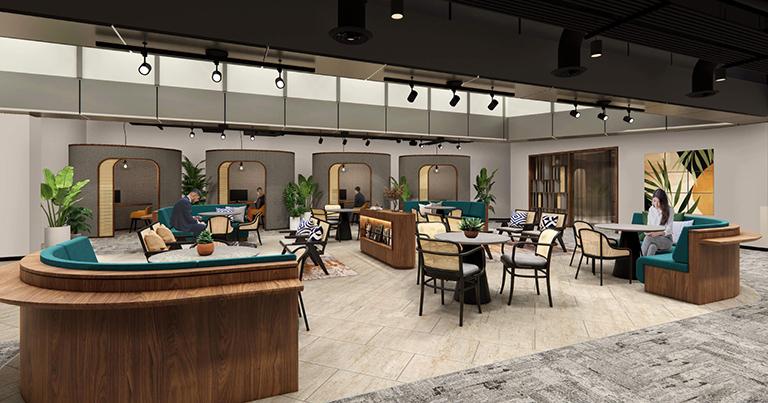 Changi Airport Group – a Headline Partner of FTE APEX Asia Expo (Singapore, 8-9 November 2023) – has partnered with JustCo to launch Asia's first pay-per-minute co-working centre in an airport at Changi Terminal 3. The centre, opening in Q4 2023, will offer 24/7 on-demand access to co-working spaces, a nap zone, and a variety of food options for travellers.
"In the past year, in-person meetings and MICE events have picked up significantly across the globe," said Ms Lim Peck Hoon, Executive Vice President for Commercial, Changi Airport Group. "To support the diverse needs of business travellers, modern workers, and digital nomads, Changi Airport Group has been working closely with JustCo to provide a world-class 'pay-per-minute' workspace option in Changi Airport. The introduction of the JustCo centre within Terminal 3 is part of our ongoing efforts to refresh and enhance our offerings for our customers to further enrich their airport experience."
The pay-per-minute pricing model is designed to be flexible and convenient for travellers or individuals who need a place to work for a few hours or even just a few minutes. Aside from hot-desk workstations, the centre will also be equipped with private office suites, a work lounge, meeting rooms with video conferencing tools, quiet nooks, and collaboration areas.
"JustCo's new partnership with CAG will reinvent the work-life harmony experience for frequent business travellers and digital nomads," said Kong Wan Long, Co-founder and Chief Commercial Officer, JustCo. "We are offering a convenient and cost-effective workspace solution to travellers and patrons of Changi Airport, regardless of their length of stay. Round-the-clock access, as well as amenities such as nap zone, food vending machines, and meeting rooms with video conferencing tools, will reshape the work experience for business travellers who need a conducive space to work in-between flight transits, or for digital nomads looking for a relaxing work environment."