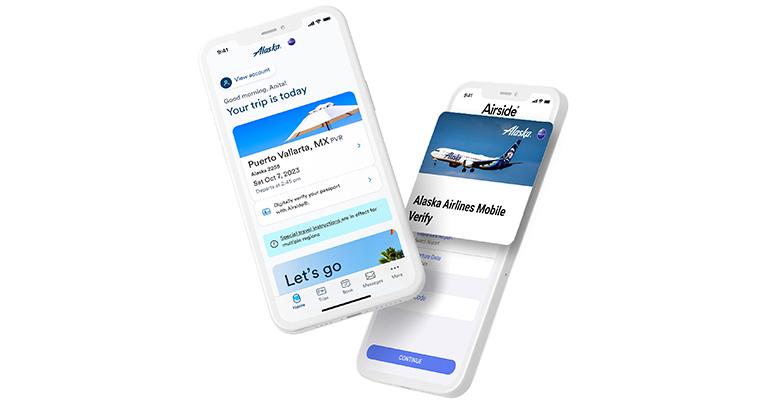 Alaska Airlines' new Mobile Verify programme, powered by Airside, enables travellers to verify their passport from home. With just a couple quick photos, you can securely verify your passport before arriving at the airport.
Every traveller leaving or entering the United States is required to have their passport verified by their airline. Guests travelling internationally on Alaska flights and using U.S. or Canadian passports have the option to use the new Mobile Verify programme. This means no longer needing to wait in line in the lobby or at the gate to have a customer service agent check your documents – you can take care of this step safely and securely from the comfort of your home ahead of time.
Alaska Airlines is transforming the airport experience and reimagining how guests get from the lobby to the boarding door – and the use of biometric identities is at the centre of this vision. Eventually, guests will be able to flow through every airport touchpoint without having to take out identification documents, simply by controlling their digital identity on their smart phone.
The Mobile Verify platform, powered by Airside, an Onfido company, is just the latest tool the airline is implementing to build this vision where everyone has access to self-service tools that lets them fly through the lobby and get to their flight faster.
"We're reimagining the entire guest experience at our airports with the goal of getting you through the lobby in 5 minutes or less," said Charu Jain, Senior Vice President of Innovation and Merchandising, Alaska Airlines. "We're investing in technology that takes processes traditionally only available at an airport and makes them possible from your smartphone. This new Mobile Verify technology creates a seamless airport experience for guests travelling internationally – eliminating the uncertainty that comes with having to wait in airport lines."
The safety and security of travellers and their information is Alaska Airlines' highest priority. It selected a solution that allows guests to completely control the access to their information – everything lives on your smart phone, and you decide when and where it's shared.
Adam Tsao, General Manager for Airside at Onfido, commented: "Alaska has highly loyal guests thanks to the quality of their service and their commitment to consumer privacy. We're proud Airside is helping deliver on this commitment and empower all those who travel on Alaska Airlines with fast, private, and easy airport experiences by putting digital identities in the hands of their flyers."