Following positive feedback, SAS further extended the fingerprint-based biometric security solution at the beginning of this year to routes from Stockholm Arlanda to Lulea and Gothenburg, and from Gothenburg to Arlanda. Since December 2006, the biometric solution for baggage handling has been rolled out at all SAS Sverige's domestic destinations (with the exception of Örnsköldsvik) with approximately 50% of all passengers on SAS domestic flights traveling with baggage having the capability to utilize the biometric solution. "Surveys from our domestic destinations show that customers feel very positively about biometrics. Consequently, passengers travelling with SAS from Arlanda and Gothenburg should also be given the opportunity to utilize this option. Our next step includes making plans to make this possible for our customers on international flights", said Susanne Dahlberg, commercial director, SAS Sverige.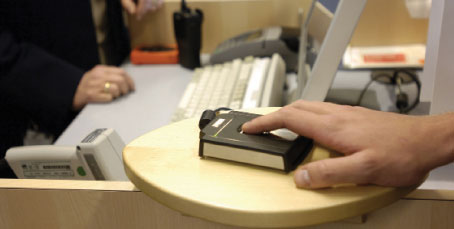 The solution, devised by Precise Biometrics, was in response to a new directive stating that airline companies must verify that a passenger with baggage also boards the plane, and that the process does not hinder the efficiency of the check-in and boarding process. Precise Biometrics' CEO Thomas Marschall said: "The travel and flight industry is an expanding and interesting market segment that we have been working towards for some time now. We believe that our solution will generate interest and business opportunities from other international airline companies that understand the financial advantages of self-service in combination with increased security. Fingerprint recognition offers enhanced security, efficient self-service and passenger flow, which in turn saves money."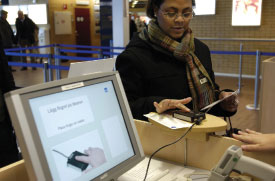 Biometric check-in: simple and secure
The process is simple. Passengers can choose to check in at the SAS self-service kiosks or manual desks. If they choose a kiosk, the passenger specifies the number of bags to be checked-in and baggage tags are printed. The passenger walks over to the baggage drop where they are asked to place their finger on a fingerprint reader. Once the baggage tags are scanned, they are attached to the bags and a match is verified, confirming the baggage belongs to the passenger. Security is further enhanced when passengers board the plane as they are asked to place their finger on a fingerprint reader, which then verifies that both the passenger and baggage is on board the aircraft.
"Identifying themselves by providing fingerprints will facilitate our customers' travel and is entirely voluntary since the use of ordinary ID documents is still an option. Personal integrity is protected because the information concerning the fingerprint is erased at the end of the flight," said Dahlberg.
Educational process counteracts potential difficulties
Such innovation often requires an educational process that familiarises staff and passengers with the process to ultimately ensure that operations run as smoothly as possible. Mikael Lindberg, SAS press secretary, said: "It is essential that the airport staff are both aware and confident of the process so that they can assure passengers of any hesitations, such as privacy concerns. Undoubtedly, the airport staffs behaviour reflects onto the behaviour of the passenger. In addition, there are a number of detailed brochures located around the airport and at check-in, which inform passengers of how to use the biometric check-in and what the benefits are. As it is an innovative system, there has been substantial media coverage, which will have an educational effect as well."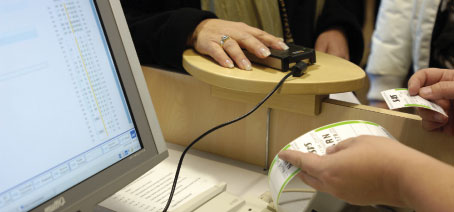 Citing the convenience, safety and enjoyment of the passenger as utmost priorities, Lindberg is satisfied that the biometric check-in benefits fully justify the initial investment. When questioned over the processes flaws, he believes that the educational process is effectively counteracting any potential disadvantages. Lindberg said: "In the beginning particularly, passengers could feel slightly awkward about the process, with passengers and airports fearing how their personal information would be used. However, the educational process has been instrumental in assuring and educating passengers that it is simply a verification process not an identification process and that the information is erased after the flight. In addition, it was very important in the beginning particularly, that the passengers understood the process so that passengers and airport operations were not slowed in any way. I think that we have achieved this as the biometric check-in is faster than traditional check-in."