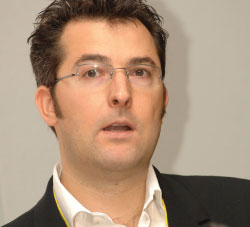 Lamkin's challenge to CUTE suppliers is to provide a wireless network alongside all the bells and whistles that legacy carriers need. "The way we check-in today – the CUTE and common user process – is geared towards the legacy carriers. We check-in on expensive printers that we don't fully need. Why do we need all this equipment and why can't we check-in using a web-based system? LCC's don't need expensive printing devices, we just need a simple printer that can produce a boarding token. The ideal solution for us is internet check-in," he said.
What can be done to streamline the process? According to Lamkin, all that is needed is a wireless network and a simple check-in system. The struggle is finding a common-user supplier that can provide that model and an airport that will support it. "The thing that's frustrating is that it's not rocket science – we're just looking to move CUTE suppliers and airports to simpler technology," said Lamkin. "We think of the industry as hi-tech, but we are still using 20-30-year-old technology. We are not talking about the bleeding-edge, but mainstream technologies such as browser-based systems and wireless networks that are available today."
He explained that easyJet wants to start lobbying common user providers to put their thinking hats on and start looking at more creative solutions, as more airlines will be demanding simpler systems at much lower cost. "The reality is that airlines are looking at everything to reduce costs; airports have got to do something to support the community more," said Lamkin.
'Time to take a reality check'
Internet check-in is key to the easyJet strategy. 98% of the airline's passengers book online, so it knows they have internet access. EasyJet is trying to make it as easy as possible to check-in online, with the ultimate goal being 100% online check-in. The check-in process then effectively becomes bag drop. "That is the thing we really need to focus on – simple, efficient bag processes at airports," said Lamkin. "We would clearly support any form of bag drop that is delivered at lower cost and doesn't impact on our excellent lost bag figures. We want to make the process as efficient as possible."
A 100% checkin trial, under which passengers with checked baggage will be allowed to use online check-in, is planned at a UK airport later this year.
"It's time to take a reality check; we're in 2008 – the internet has been around for over a decade and WiFi is standard in most airports. Lets move the industry forward and offer lower costs to the aviation industry. We need simple, lower cost solutions as soon as possible," said Lamkin.
He explained that easyJet sees no benefit to adopting CUSS and rolling it out. The airline has done a number of trials of standard check-in versus Kiosk self tagging and bag drop, finding standard check-in to be faster. "We have been doing some work looking at alternative ways of connecting with the reservation system wirelessly. Once we've got a technology in place, we can use queue-busting devices. I very much see WiFi connections and wireless interfaces as the way forward for check-in systems," said Lamkin.
Airlines are starting to think more and more about how they can get Departure Control working. "All we can see is CUTE charges getting higher and higher in certain airports. As an airline we cannot continue with CUTE charges going up on that basis," said Lamkin.
He believes that airlines like easyJet, which are growing quickly, are bearing the brunt of paying for charges. "It is not sustainable that that model continues going forward. At the moment we are looking at costs across the network. We need to support fast, efficient operations," he said.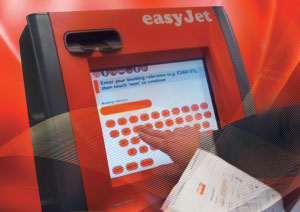 A simpler process
Lamkin has been involved in the CUPPS (Common Use Passenger Processing Systems) initiative and has attended several meetings. At one such meeting, it was accepted that a lot of airlines would not be able to participate in the pilot program if the AEA standard was not supported. "I saw CUPPS as moving technology forward, but I can see going forward that with legacy carriers carrying on with their existing systems, it will be CUTE version 2. CUPPS began with good intentions, but I feel it has got lost along the way," said Lamkin. "If someone came up with a web-based system with a lower cost and wireless PDA, the work of CUPPS would be superseded. The internet/web browser is a much cheaper alternative. A wireless connection would provide access to the reservation system. We've got to stand up and say this is a simpler process."
He also believes that mobile devices will potentially play a part in the future. "Mobile check-in may come about, but I believe it's not quite there yet. With the advent of more advanced phones we will be looking at it as an option. However, at the moment it is cost prohibitive. I think it will come, but it's still in its infancy," said Lamkin.