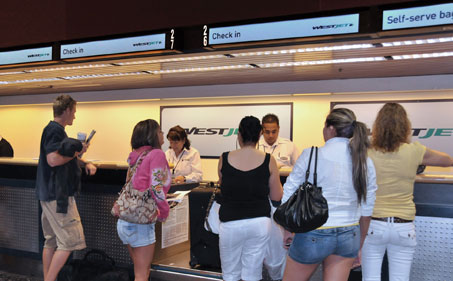 While the technical trials are ongoing, the compliance trial parameters are being defined and the technical specification updated with lessons learned. Errors and omissions are being fixed so that the time required to execute the specification update segment can be minimized.
There are currently four active trials in progress – Las Vegas (ARINC), Orlando (SITA), Dublin (Ultra) and Brussels (RESA). "While the actual execution of the trials has changed over time due to the installation and site-specific needs, the overall progress is proceeding as planned," said Samuel Ingalls, Assistant Director of Aviation, Information Systems, Las Vegas McCarran International Airport, who is also Chair of the CUPPS Leadership Team. He continued: "Our original goal was to have the technical trials completed by April 15, 2009, but we learned through the pilot process that the critical milestone in the schedule is the publication of the Technical Specification. Each of the four trials is progressing with different tasks, in different orders, based on the participants' views and needs, and therefore they are completing the trial milestones in different orders. This flexibility has allowed us to learn more in a quicker manner, as well as giving everyone the freedom to complete their tasks in a manner that is comfortable for them."
Once the technical trials are completed, the applications and platforms will be compliance tested and then certified to the specification. The specification will be updated then published by IATA.
The technical trials are scheduled to be complete on 15 July; the certification trials are scheduled to be complete on 8 July for platforms and 15 July for applications. The technical specification is scheduled for completion by 15 September.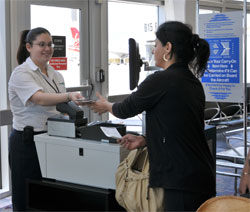 Catherine Mayer, SITA's Vice-President for Airport Services, explained that the pilot is critical to ensure that the technical standard works as expected, especially the interoperability of CUPPS applications among the different platform vendors. "The intent is to have vendors test their platform with at least two airline applications and for these same airlines to test their new CUPPS application on at least two vendor's platforms," she said. "If there are technical issues or discrepancies, the Technical Committee can update the technical specification before its final release, again ensuring success and following a logical practice that is new for aviation industry Recommended Practices. This is the first time that the industry has ever ensured such testing and recommended practice development; it is a great showing of the benefits of industry collaboration."
SITA began testing at Orlando in January, with WestJet passengers checked-in and boarded using the CUPPS technology. When testing is fully completed, SITA's AirportConnect Open platform will be considered as CUPPS compliant prior to a general product launch later in the year.
Lufthansa is participating in the pilot trials with SITA at Orlando and RESA at Brussels. "We have been conducting thorough testing of our CUPPS application (CLIP – CUPPS LH Integration Platform) and the platform suppliers' platforms we are doing pilot trials with," said Thomas Jeske, senior manager – IT infrastructure, Lufthansa. "It is of no surprise that while for the first time these new platforms and the LH middleware get integrated an array of issues arise that even a very thorough Technical Specification could not foresee. So we have had several test runs (integration tests) in our labs both with SITA and RESA. We have reached a stage where we feel our code is stable enough to provide it to SITA and RESA to do their own testing/integration testing in their labs."
ARINC's CUPPS platform went live at Las Vegas McCarran in January. ARINC worked with the international IATA/ATA/ACI CUPPS team to develop the CUPPS Technical Specification published in 2008. The company fast-tracked its deployment of the vMUSE CUPPS platform installed for the CUPPS Pilot Project at Las Vegas McCarran. John Belcher, ARINC Chairman & CEO, said: "This is a true breakthrough for the aviation industry. CUPPS represents a major investment by ARINC that will give the industry tremendous savings. ARINC's vMUSE platform is now being enhanced to simultaneously run legacy CUTE applications, newer CUPPS applications, and airlines' native applications – a capability we launched in Singapore in November 2007."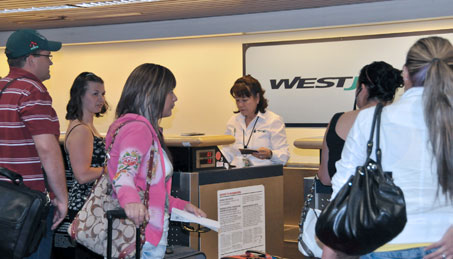 Efficiencies and cost savings
CUPPS has been architected as the platform of the future, able to accommodate many things even beyond the agent-facing applications that it will initially address. The biggest benefit will be that one air carrier application will be able to run anywhere on any CUPPS providers platform. That has been the key foundational principle throughout the course of the initiative. The issue currently is that many different companies are providing differing types of platforms and implementations, requiring the carriers to maintain (in some cases) as many as six different applications, including their own proprietary application. "It can be a rather daunting task for them to update these many applications as their business demands change and/or as security changes or other changes occur in their respective operating environs," said Ingalls. "I liken this to the rather public standards fights that we are all familiar with. Going back a couple of decades, it was the Beta vs. VHS fight, eventually won by VHS. More recently, it was the BlueRay vs. HD-DVD face-off. By all accounts, the lack of a standard greatly inhibited the public acceptance and uptake of high-definition DVDs. When I play a movie, I don't want to have to think about whether I have the right manufacturers player. I want to put the DVD in and sit back to relax and enjoy the movie. In somewhat similar fashion, air carriers should be able to easily port their application from one venue to another, not having to consider the peculiarities of a specific vendors platform in a particular airport. The efficiencies and cost savings of being able to accomplish that should be of significant benefit to the industry."
Jeske similarly believes that streamlined standard processes across vendors, suppliers, airports and airlines will bring costs down for each of the stakeholders. "If we achieve this we should also be able to offer to the passengers a better system for a lower price that in the end could reduce the cost for tickets further – a win-win-win-win solution. So the cost factor is in my eyes a critical part to the overall success of CUPPS," he said.
Significantly, the CUPPS standard represents the first time that a recommended practice has been jointly owned by both airports and air carriers. In fact, the recommended practice has been approved by three organizations: the International Air Transport Association (IATA), the Air Transport Association (ATA) and Airports Council International (ACI). CUPPS also includes Aviation Information Data Exchange (AIDX).
The platform will evolve over time, unlike the former common use standard, which largely sat untouched for many, many years. The CUPPS standard will be living and breathing, with updates over time. Effective CUPPS oversight is currently being structured to facilitate communication and updates.
What makes CUPPS unique is that it will enable an airline to process passengers using the same application on any CUPPS provider's platform, eliminating the need to maintain multiple terminal emulator applications and therefore reduce costs. "For airports, it is the first time that they can assure their airline tenants that their system is the same as the one found in other CUPPS airports, regardless of location in the world or provider; CUPPS provides global consistency for the airlines," said Mayer.