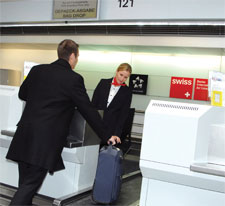 Zurich airport's PassengerBagdrop, developed by Swissport and SITA and launched at the beginning of this year, is a real life example of the common bag drop's potential for greater interoperability and cost sharing between multiple airlines. Developed for use between the 11 carriers in the Star Alliance, it appears to be a major step in the right direction, highlighting a way forward in making better use of airport spacing and staffing arrangements and reducing overall transaction times.
The software enables passengers from any airline in the Star Alliance to be processed in the same queue – with any combination of departure control hosts able to run from a single bag drop counter. The Star Alliance uses just one host, highlighting the possibilities of the technology for driving efficiencies. According to Rico Barandun, Swissport's head of e-services, Zurich's PassengerBagdrop has achieved a throughput increase of 50% since becoming operational – a sign that airline alliances could continue the trend.
Developments in other self-service check-in processes, including self-bag tagging, are likely to facilitate the common bag drop process, which IATA is addressing. "Bags ready to go is an important part of our Fast Travel initiative, comprising two specific parts: self-tagging and bag drop – whether dedicated or common-use. We are focusing on a standard for the common bag drop, which we will present in October – these are not mandatory but will be recommended practices for airlines," explained IATA's Paul Behan.
However, developing a definitive common standard poses wider, complex challenges, particularly where different airline methods of revenue collection must be accommodated. "Bag drops, especially common use set ups must be flexible to support individual airline business rules, including weight restrictions and excess baggage. If an application can handle this, a common-use set up is much more feasible," said Mark Stokes, director of IT, Brock Solutions, whose first common bag drop solution has been operational for four years at Montréal-Trudeau airport. Named 'SmartDrop', the original version serves WestJet and Air Canada passengers. It's the only US solution that has received approval by the TSA for trans-border use, with further deployments in Vancouver's domestic terminal and London Heathrow for flights to Canada. Both are approved by the UK DfT (Department for Transport) and Transport Canada.
In a further development, earlier this month, the latest version of the SmartDrop system, which is currently used by Air Canada in a dedicated mode at Vancouver and Toronto airports, has been extended to customers departing London Heathrow. An upgrade was carried out in collaboration with BAA in early June, leaving other airlines open to using the older version as a common bag drop or in a dedicated mode. Where passengers self-tag their own bags, they will need to use a SmartDrop desk as SmartDrop performs the necessary bag activation.
Stokes added. "I suspect that in airports where there is a large presence of a carrier that we will always see a more dedicated bag drop environment, most likely using common facilities in a dedicated mode not unlike the CUTE counter equipment environment."
Retaining brand identity
Common bag drop applications don't naturally lend themselves well to non-alliance airlines – particularly legacy carriers, Stokes explained. "Branding is a huge issue among airlines, especially in their hub airports. With a common-use setup, this will tend to work in an alliance situation. We have also seen a desire from airlines with a large presence at an airport to want to deploy a bag drop using a common platform, but in a dedicated fashion for as long as the airline is operating in that space," said Stokes.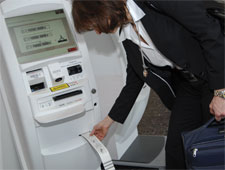 'True' commonality will be achieved more quickly among the smaller carriers, added Swissport's Barandun. "Smaller airlines which don't tend to have a separate bag drop counter will have to increase their self-service offers so that we can really move towards a true common bag drop. I think this solution will develop among airlines who don't have the same volumes as a legacy carrier would."
The question for legacy carriers operating under an alliance umbrella is whether a common bag drop would be viable where the airline will lose its dedicated branding.
Jamie Cassidy, British Airways' general manager, Airline Partners, explained: "The common bag drop depends on which airport it is and how important it is to the carrier as to how an airline invests in its branding. An airline operating once a day to a leisure destination wouldn't invest in its own branding as much as an airline with heavy business."
Furthermore, the Star Alliance serves as the major brand identity at Zurich airport, in contrast with the oneworld alliance, which sits under British Airways' brand – airlines in this scenario will not want to lose their branding, added Cassidy. "British Airways would invest more in individual brands than the SkyTeam – we find this is what our own customers want and is something we need to take into account," he added.
This view is shared by IATA's Paul Behan: "At baggage, we don't believe branding is all that important. An airline at their home airport will probably always have dedicated solutions due to frequency and volume of traffic, but at many airports where they have several flights per day, the arguments for common-use become compelling. Additionally, it has to be right from a product and operational perspective too."
Cassidy conceded that there is still some way to go until airlines reach the same standard with self-service check-in and bag drop. "While as an airline, we are comfortable with the notion of bag drop and self-service, for a common bag drop to happen, you also need co-location. At London Heathrow's Terminal 3, the oneworld alliance is in the same building but not in the same area and they offer a mix of short and long haul services. I can see the common bag drop developing over time, but where there is co-location and synergy," he explained.
Zurich airport's common bag drop, which is installed in the check-in 1 terminal area where Swiss and Star Alliance members are grouped, is facing this challenge as it tries to roll out the application to its check-in 2 area. "In check-in 2, we face a situation with multiple handlers and airlines from multiple alliances – this makes it hard to deploy a common system for everyone. A common bag drop will mean common bag drop per alliance – the time for a 'true' common bag drop for any airline is yet to come," said Thomas Vogel, Zurich airport's project manager. The success of any common bag drop solution also depends on strong relations between handling agents, airlines and the airport, he said. "We have a close collaboration with Swissport and are working with The Airport Technologies (APT) to look at how to improve the common bag drop process and optimize services in areas like bag drop software, automated bag drop and RFID tagging."
Bag tagging improvements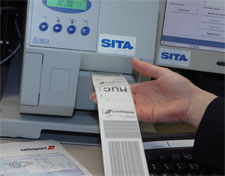 Susan Prediger, vice president of US-based CAGE Inc, whose specialist services include automated baggage handling systems at airports, believes there is still some time before the common bag drop solution takes off. "The ongoing pilot programs and industry studies will need to resolve issues such as security, visibility of charges, tag printing and application and wayfinding."
Nick Gates, SITA's Baggage Portfolio Director added that most airlines' kiosk applications don't support bag tag printing and often kiosks don't have the ability to print bag tags.
As new solutions develop, ensuring a standard will be a further challenge. Compared to Brock Solutions' common bag drop, where passengers print and apply their own bag tags from a kiosk before dropping off their bag, Zurich airport's Swissport/SITA solution requires an agent from the Star Alliance to print the tag on behalf of the passenger. Zurich airport is using its common-use bag drop to test methods of RFID tagging in different scenarios, with both an automated and manned bag drop.
According to Brock, regulatory approval for passenger self-tagging is a further obstacle, particularly in the US. "A rule exception was provided for Aéroports de Montréal, however, a rule change is desired so that other airlines and airports can implement bag drops where the passenger applies the bag tag themselves," said Brock. "We will eventually see high-speed bag drops in many major airports being used by most carriers. In time, as the act of dropping off a bag becomes a fast trivial process, airlines may become more open to the idea of a common bag drop outside of alliances if the bag drops prove that the passenger is there for such a short amount of time that branding is not needed."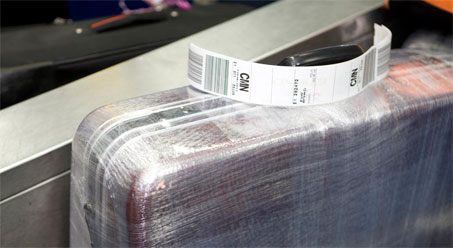 CAGE's Susan Prediger agrees that common use bag drop solutions have a positive future in the long-term. "IT and common-use self-service trends will shift baggage handling paradigms – the future will offer more choices from airports and airlines using shared processes, with better control of operating costs through flexible infrastructure improvements in syncronisation and staff, and closer collaboration among stakeholders," said Prediger.
Airports of the future or terminal expansions are likely to make better use of space as new technologies, improvements in bag tags and common-use self-service methods continue to evolve. "Architects can draw in these common bag drops and use the newly 'acquired' space for more shopping or concessions, which can increase the revenue for an airport," said Brock.