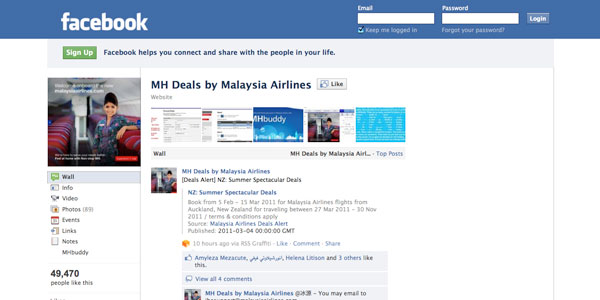 Malaysia Airlines has launched an innovative Facebook platform that allows passengers to book and check-in for their flight via the social media website.
Known as 'MHbuddy', the platform has been developed alongside SITA Lab and also allows users to share their trip details with their Facebook 'Friends'.
While other airlines, such as US carrier Delta Air Lines, also offer ticket sales through Facebook, the Malaysia Airlines application is the first to allow users to check-in for their flight and select their seat.
Dr Amin Khan, Malaysia Airlines' Executive Vice President Commercial Strategy, said: "The introduction of MHbuddy really takes flight bookings to another level. Besides opening up another distribution channel for ticket sales, now, our customers can also experience amazing convenience. At the same time, they can stay connected with their friends.
"No other airline allows its customers to integrate their travels so deeply into the Facebook social graph. Neither do they allow customers to check-in via Facebook."
Visit the MHbuddy Facebook application.
More information can be found on the Malaysia Airlines website.