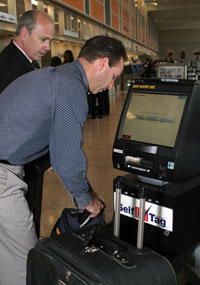 Having teamed up with American Airlines and the TSA (Transportation Security Administration), Austin-Bergstrom International Airport now allows passengers to print their own bag tags for their baggage through the use of self-service kiosks.
American Airlines is trialling the self-tagging initiative at nine kiosks and after printing and attaching their bag tags, passengers can take their baggage to a counter where it is scanned before being placed on the baggage conveyor.
Jim Smith, Executive Director, Austin-Bergstrom International Airport, said: "We are excited to garner customer feedback on this Self Tag trial because we know it is one of the areas in the travel process that our customers have been asking us to streamline and provide them with better controls. As always, our agents remain available for customers opting not to use Self Tag."
More information is available on the Austin-Bergstrom International Airport website.