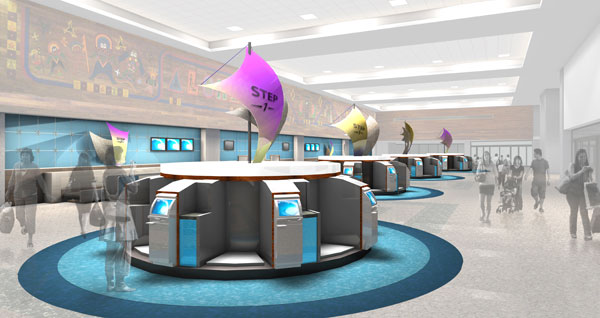 The redesign of the check-in areas at Honolulu International Airport will see the introduction of six circular check-in 'islands' in place of Hawaiian's existing, traditional lobby configuration.
Each check-in island will feature eight self-service check-in stations and passengers will be able to use any one of the 48 kiosks. The airline claims that this could reduce peak period queuing times by up to 75%.
Passengers will be able to check-in for their flight, weigh their baggage and pay any necessary fees, and also use self-tagging facilities, with the help of Hawaiian's customer service agents.
Mark Dunkerley, Hawaiian's President and CEO, said: "Hawaiian is bringing a dramatic transformation to the check-in process at our Honolulu hub that Hawaii's residents and visitors alike will find to be a faster, easier and superior experience. We have made it a priority to provide a standard of service that leads the airline industry and this new lobby design is a quantum leap forward from the traditional check-in process that travellers are used to."
More information can be found on the Hawaiian Airlines website.